OCZ Now Shipping Vertex 3 Solid State Drive Series
OCZ Technology today announced the availability of the Vertex 3 SATA III SSD Series through the company's reseller network. Market availability will vary by region with wider overall availability continuing to ramp in the coming weeks, the company said.
Recently showcased at the CeBIT tradeshow along with the Vertex 3 Pro, the Vertex 3 is the first available solution to feature the new SandForce SF-2200 SSD processor which harnesses the 6Gbps speed of the SATA III interface to deliver double the performance of the previous generation. The pricey Vertex 3 raises the bar with up to 550MB/s of bandwidth and up to 60,000 IOPS (4k random write), and is now available in 120GB ($300), 240GB ($550), and 480GB ($1,900) capacities. The enterprise-class Vertex 3 Pro series is expected to begin shipping mid-Q2.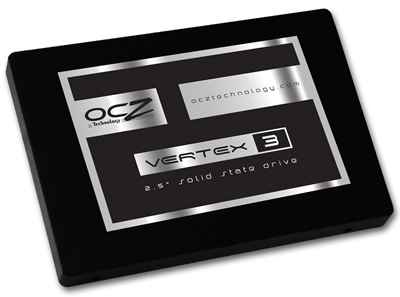 Specifications
- Available in 120GB, 240GB, 480GB Capacities
- MLC NAND Flash
- Interface: SATA 6Gbps / Backwards Compatible 3Gbps
- Native TRIM support
- Seek Time: 0.1ms
- 2.5" Design 99.8 x 69.63 x 9.3mm
- Weight: 77g
- Operating Temp: 0°C ~ 55°C
- Storage Temp: -45°C ~ 85°C
- Power Consumption: 2W in operation,.5W in standby
- Shock Resistant up to 1500G
- RAID Support
- Included 3.5" Desktop adapter bracket
- Compatible with Windows 7, Vista, XP 32-bit/64-bit, Mac OSX
- MTBF: 2 million hours
- 3-Year Warranty
120GB Max Performance
Max Read: up to 550MB/s
Max Write: up to 500MB/s
Random Write 4KB (Aligned): 60,000 IOPS
240GB Max Performance
Max Read: up to 550MB/s
Max Write: up to 520MB/s
Random Write 4KB (Aligned): 60,000 IOPS
480GB Max Performance
Max Read: up to 530MB/s
Max Write: up to 450MB/s
Random Write 4KB (Aligned): 40,000 IOPS