OCZ Adds Storage Intelligence To Saber 1000 SSDs
OCZ Storage Solutions is adding to its Saber 1000 series of solid state drives what the company calls the "HMS (Host-Managed SSD) technology," a new solution that enables superior management of large pools of SSDs for data centers, while delivering better performance and lower latency. HMS is the initiative is referred to as Storage Intelligence. This technology enables Host controls over internal SSD background processing tasks that were previously not exposed to host-level software. These tasks may include garbage collection, log dumps, and drive geometry data. The result is improved overall storage performance, and specifically, a consistent and predictable latency across a large pool of SSDs is maintained.
"We have listened to our customers and they require not only high performance, but consistent high performance," said Oded Ilan, General Manager of OCZ's R&D Team in Israel. "Our new Saber HMS SSD, together with a software library and API, enable for the first time software orchestration of internal housekeeping tasks across large pools of SSDs, thus overcoming performance barriers that were simply not possible to address without this technology."
The HMS-enabled Saber 1000 SSDs are managed by software APIs which provide control over the HMS functionality within the Saber HMS SSD.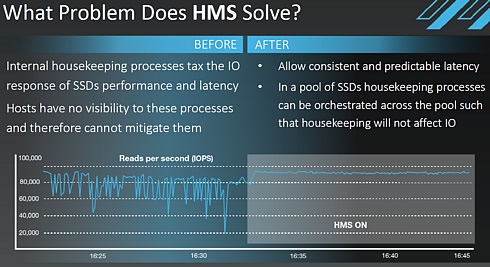 OCZ is also providing a reference design and demonstration platform which demonstrates the functionality of Saber HMS, and enables benchmarking the HMS system performance in real time. The company also provides a software library and a Programmer's Guide so HMS can be integrated into storage stacks of storage OEMs or software defined storage applications.
The array of drives configuration you see below is divided into three pools of drives. At any given time, two pools are actively receiving writes, while the drives in the third pool are focusing solely on the "background" housekeeping operations. The two pools that are in active use defer all the background processing and operate with peak performance and consistency. By cycling the drive pools through the two modes, the intention is that none of the active drives will ever reach the steady-state of having constant background processing to free up space for the incoming writes. This provides a significant improvement to performance consistency, and can also provide a minor improvement to overall throughput of the array.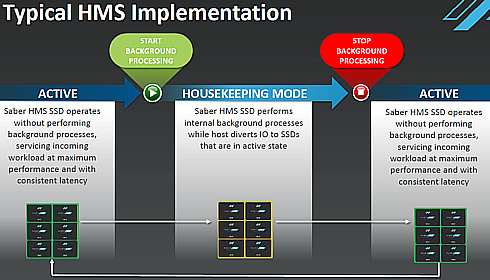 HMS does not require any new operating system drivers, and OCZ will be providing tools and reference code to facilitate using HMS.
The Saber 1000 SATA Series is OCZ's first product to support HMS controls and includes usable capacities of 480GB and 960GB in a 2.5" x 7mm enclosure.
Compared to the Saber 1000 series, HMS-enabled Saber 1000 SSDs differ only in the SSD controller firmware; otherwise it is still a low-cost drive using the Barefoot 3 controller and is intended for read-oriented workloads. Sequential speeds are rated for up to 550MB/s read and 475MB/s write and they are rated for up to 91K/22K read/write IOPS.
OCZ is available for supporting volume development partners, and Saber 1000 HMS will be available through normal sales channels in bulk. These SSDs are covered by a 5-year warranty or until the average P/E count across the SSD is used up, which is 3,000 P/E cycles for these models.
The drives will be available in November. MSRPs are $370 (480GB) and $713 (960GB) for both the base Saber 1000 and Saber 1000 HMS models.