Nvidia To Demonstrate Kepler-based Mobile Chip
Nvidia will introduce Project Logan (Tegra 5), its next-gen graphics processors for mobile computing, at the SIGGRAPH visual computing conference this week. The new graphics chip technology is based on the company's Kepler architecture and promises to bring workstation-class graphics to mobile computing.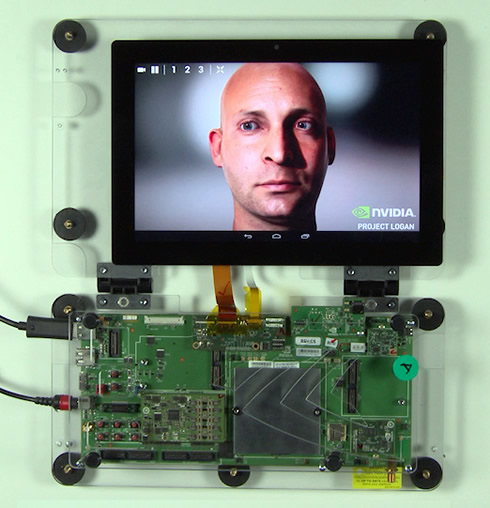 With project logan, Nvidia tried to scale this technology down to the mobile power envelope - creating new configurations that the company could both deploy in the Logan mobile SOC and license to others.
Nvidia took Kepler's processing cores and added a new low-power inter-unit interconnect and extensive new optimizations, both specifically for mobile. With this design, Nvidia claims that mobile Kepler uses less than one-third the power of GPUs in tablets, such as the iPad 4, while performing the same rendering. And it gives Nvidia's engineers performance and clocking headroom to scale up.
Kepler supports the full spectrum of OpenGL ? including the just-announced OpenGL 4.4 full-featured graphics specification and the OpenGL ES 3.0 embedded standard. It also supports DirectX 11, Microsoft's latest graphics API.
These advanced APIs will allow developers to use more efficient rendering approaches than were previously possible in mobile. They will be able to use a variety of advanced rendering and simulation techniques, such as:
- Tessellation - which creates geometry dynamically and efficiently on the GPU from high-level descriptions, sizing triangles optimally based on the user's viewpoint. By comparison, fine detail in a traditional pre-generated approach is inefficient, requiring excess geometry to deal with all possible viewpoints.
- Compute-based deferred rendering - which calculates the effect of all lights in a scene in a single deferred rendering pass. This OpenGL 4 capability greatly improves deferred rendering efficiency and scalability compared to current OpenGL ES-based implementations, which require an extra pass for each light source in the scene. The scalability of the compute-based approach also paves the way to even more advanced lighting models, such as using virtual points of lights to approximate global illumination effects.
- Advanced anti-aliasing and post-processing algorithms - which deliver better image quality, particularly in areas of very sharp color contrast, by making multi-sampling more programmable and allowing applications to implement their own anti-aliasing filters. These also enable more efficient film-quality post-processing effects, such as motion blur and depth of field.
- Physics and simulations - which simulate the physical behavior of rendered objects, such as calculating rigid-body dynamics or animating particles of smoke. This enables gamers to enjoy more detailed, fully interactive virtual worlds not previously possible on mobile devices.
NVIDIA took its Ira demo, originally run on a Titan at GTC 2013, and got it up and running on a Logan development board. NVIDIA claims this demo was done in a 2 - 3W power envelope.
The next demo is called Island and was originally shown on a Fermi desktop part. Running on Logan/mobile Kepler, this demo shows OpenGL 4.3 and hardware tessellation working.
Nvidia is also promising to bring groundbreaking compute capability and power efficiency to new mobile applications outside of graphics. Among these are computational imaging, computer vision, augmented reality and speech recognition.
Beyond Logan, Nvidia is making more hardware improvements that should make graphics rendering faster. The Tegra 6 processor code-named Parker will unite CPU and GPU and make it a shared resource. Parker will also have a 3D structure in which transistors will be stacked on top of each other, which should make the GPU faster and more power efficient. Parker is due for release in 2015.