Intel Releases SSD 530 Series
Intel announced today the Intel Solid-State Drive 530 Series, a new generation of solid-state drive (SSD) designed for accelerating PC performance.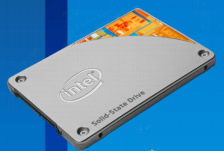 The SSD can easily handle intense multi-tasking needs and will blaze through the most demanding consumer client applications on a wide array of consumer platforms including Ultrabook devices, traditional desktops and laptops, as well as the latest tablets and small form factor desktops.
The new SSDs use the 20nm Intel NAND Flash MLC. Their performance is equivalent to the current SSD 520 and SSD 525 series, but power consumption has been significantly reduced. In addition, when combined with a Haswell system, the SSDs support the SATA DevSleep, a feature that futher reduces the power consumption of the SSDs.
To meet a variety of PC applications the 530 Series is available in three form factors - M.2, mSATA and 2.5" and in 80GB-480GB capacities.
| Capacity | Sequential Read/Write (up to) | Random 4KB Read/Write (up to) | Form Factor |
| --- | --- | --- | --- |
| 180GB | 6Gb/s     540 MB/s / 490 MB/s | 41,000K IOPS / 80,000K IOPS | 2.5-inch SATA |
| 240GB | 6Gb/s     540 MB/s / 490 MB/s | 41,000K IOPS / 80,000K IOPS | 2.5-inch SATA |
| 80GB | 6Gb/s     540 MB/s / 480 MB/s | 24,000K IOPS / 80,000K IOPS | M.2 |
| 180GB | 6Gb/s     540 MB/s / 490 MB/s | 41,000K IOPS / 80,000K IOPS | M.2 |
| 360GB | 6Gb/s     540 MB/s / 490 MB/s | 41,000K IOPS / 37,000K IOPS | M.2 |