Nokia Treasure Tag Helps You Find Lost Items
Nokia has unveiled Treasure Tag, a small device that can be attached to your keys and when papaired with your Lumia smartphone, will alert you when your valuables become separated. Measuring just 30 x 30 x 10mm and weighing in at 13g, the small accessory can be paired with your Lumia phon using either NFC or Bluetooth.
You should also download the Nokia Treasure Tag app through the Windows Phone Store.
If you leave the house without one or the other, the two will emit a loud tone to alert you of this fact. And if you hear the tone from either the phone or the Nokia Treasure Tag, you'll be within range to hear the tone of the other device - making it easy to locate.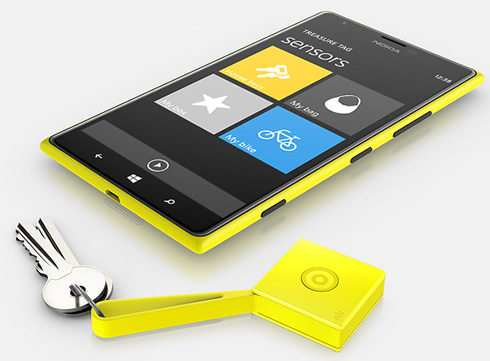 You can have up to four different Nokia Treasure Tags simultaneously connected to your Nokia Lumia. If you?ve got one tag connected to your keys and another connected to your bag, you can assign ready-made icons for each. Alternatively, you can use a photo instead of an icon.
Each Tag you have connected to your Lumia can be placed onto your Start screen as a Live Tile and will be colour coded to match your Tag.
However, if you decide to leave your bag (with Tag attached) at home for the day, a long press will deactivate the Tag. Alternatively, you can mute the alarm or put it into sleep mode from the Nokia Tag app.
Nokia Treasure Tag offers a standard coin cell type (CR-2032) battery with a life of up to six months.
Nokia Treasure Tag comes in four colours: cyan, yellow, white and black. It is expected to retail in April to retailers globally for €24,90 ($29.90).
As a last note, Nokia Treasure Tag will work with Lumia phones that have the Lumia Black update. There will also be third-party applications for Treasure Tag to support Android and iOS devices.