Noctua Showcased Many New Prototypes at Computex 2019
At this year's Computex Taipei trade show, Noctua displayed a range of upcoming products and prototypes, including its next-generation 140mm dual tower CPU coolers, a fanless heatsink and all-black versions of the NH-D15, NH-U12S and NH-L9i models.
The next generation of Noctua's NH-D15 and NH-D15S CPU coolers took centre stage: with 7 instead of 6 heatpipes and 10% more surface area, the new models promise to provide further improved cooling performance at high heat loads while assuring PCIe compatibility due to an asymmetrical design inherited from the NH-D15S. Noctua is preparing multi-socket (AM4, LGA20xx, LGA115x) and dedicated TR4 versions, both of which will come in single and dual fan variants. While the single fan units will provide full compatibility with RAM modules of up to 65mm height, the dual fan ones will further push the limits of air cooling performance. In on-site live demonstrations, the new model outperformed the current NH-D15 by around 1.5°C on 280W heating elements and managed to cool an overclocked AMD Threadripper 2990WX CPU at a heat load of no less than 435W. Noctua said that the new versions will be released in the first half of 2020.
Another highlight of this year's line-up was Noctua's new fanless cooler project. Designed for passive cooling from the ground up, the 1.5kg prototype was demoed in a completely fanless, silent system from QuietPC.com that relies on natural convection only. On the dhow floor, the cooler managed to keep an Intel Core i9 9900K CPU in check while the processor was fully stressed running Prime95 and producing a heat load of almost 120W. By adding an additional low-noise case fan, such as the NF-A12x25 ULN, the prototype was able to dissipate up to 180W. This product is also expected to hit the market in the first half of 2020.
Shown in an early prototype stage last year, the upcoming desk fan based on the NF-A12x25 and a three-way Airflow Amplification System was displayed as a pre-production prototype with updated visual design. Thanks to the Airflow Amplification System that enhances the fan's airflow, it produces a focused beam of air that can be felt even at a distance of more than 2m, despite the fact that the fan is quiet enough to blend into near-silent office environments. The desk fan is expected to hit the market sometime next year.
In the chromax line, Noctua showed black versions of the NH-D15, NH-U12S and NH-L9i as well as black versions of the NF-A20, NF-A9, NF-A9x14 and NF-A8 fans, all of which are scheduled for release in Q4 2019. The black versions of the NF-A12x25 and NF-A12x15 that were on display are on the roadmap for the first half of 2020. In addition to its black chromax line fans, Noctua displayed white variants of the NF-A15, NF-A14 and NF-F12 that are targeted for the first half of 2020 as well. Noctua promised that the chromax line heatsink covers for the NH-U14S and NH-U14S TR4-SP3 will be available shortly.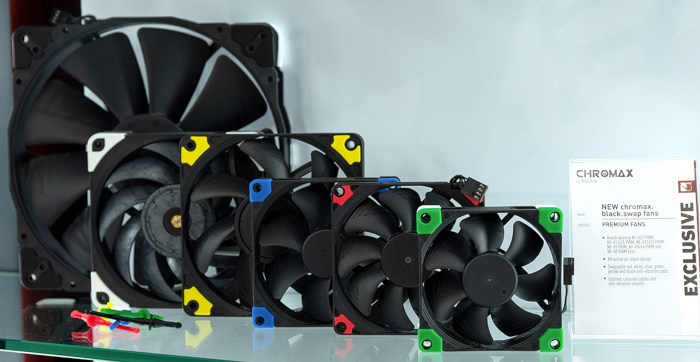 Noctua's redux line will be expanded with an NH-U12 series CPU cooler. Noctua said that it would be an "attractively priced" version of the NH-U12S. While the number of heatpipes and accessories will be reduced, the cooler will come with the same SecuFirm2 mounting system as Noctua's more expensive coolers. It is currently scheduled for release in the first half of 2020.
The fan prototypes on display included slim 140x15, 80x15, 70x15 and 50x10mm A-series models as well as a 140mm counterpart of the NF-A12x25, all of which are on the roadmap for 2021. A 60x15mm model should become available in the second half of 2020.
Noctua also displayed two upcoming accessories, both of which should arrive on the market by the end of the year: an 8-port fan hub that will allow users to connect, control and monitor up to 8 PWM fans and a 24V to 12V DC-DC step-down converter. The latter will make it possible to run all 12V Noctua fans in 24V environments, thus enabling users to operate 40 and 60mm fans like the NF-A4x10 FLX and NF-A6x25 PWM in 24V-based systems such as 3D printers. The converter will support both PWM and voltage-based speed control as well as RPM monitoring.
Away from the busy show floor, Noctua's flagship fan NF-A12x25 was voted best case fan of the year by the jury of the European Hardware Association, made up of editors of nine hardware publications from Europe.