Noctua at Computex 2013
During last week's Computex Taipei trade show, Noctua gave an update on its cooperation with Active Noise Cancellation (ANC) specialists RotoSub, exhibiting a prototype of the first CPU cooler with integrated ANC as well as an early prototype of an ANC fan for watercooling radiators. In addition to its new ANC prototypes, Noctua's booth gave stage to a diamond-composite base plate for CPU coolers as well as a series of other fan and heatsink prototypes. Last but not least, Noctua gave an exclusive insight on its upcoming 140mm dual tower CPU cooler, industrial fans and redux edition fan models.
Noctua showed prototypes of the upcoming A-series 200, 92 and 80mm fans, which are about to complement the series and will share all its key features such as Flow Acceleration Channels, AAO frames and SSO2 bearings.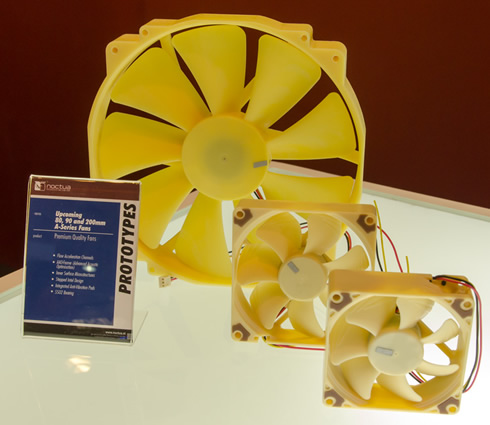 Another new addition to Noctua's line-up of premium quality quiet fans will be a range of ruggedised industrial models that feature a fibre-glass reinforced polyamide construction and IP52 class water- and dust protection for heavy-duty applications as well as a new 3-phase motor design with six poles that provides further improvements in running smoothness, even lower vibrations and further reduced power consumption.
In addition to the upcoming A-series and industrial fans, Noctua gave a first glimpse of its upcoming 'project redux', a new edition of models such as the NF-S12B and NF-P14 in streamlined, more accessibly priced packages. While the new A-series and industrial fans are scheduled for a release in Q1 2014, Noctua aims to release the first redux models in Q4 2013. In order to visually distinguish the new industrial and redux edition fans, industrial models will come in black and redux models will come in a light/dark grey colour scheme.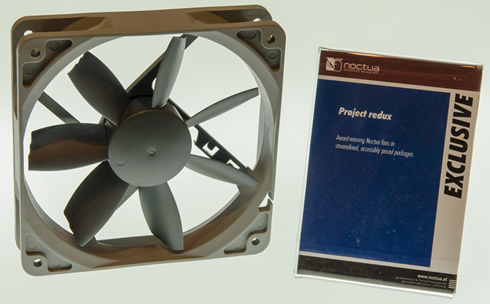 Noctua's new CPU coolers displayed at Computex ranged from compatibility updates to the existing NH-L9 low profile models over a more powerful 65mm tall version and a new 92mm D-type prototype to an updated 140mm dual tower cooler that will further improve the NH-D14's quiet cooling performance. The NH-L9 compatibility updates are already being implemented with current production and the new 140mm dual tower is scheduled for release in Q4 2013. The 92mm model is planned for Q1 2014.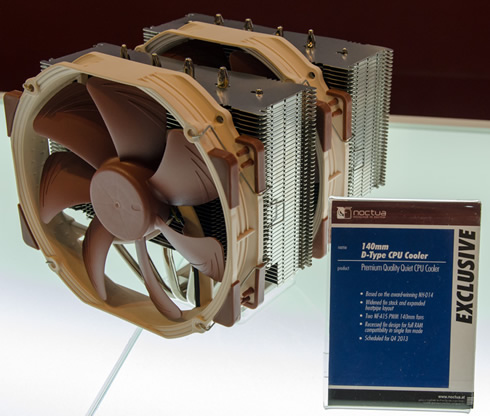 One of the highlights of this year's line-up was a heatsink base plate with a diamond-copper composite insert. Made from pure diamond and copper powder by hot pressing technology, this material offers a thermal conductivity of about 500W/mK, which is 25% higher than pure copper.
The Active Noise Cancellation (ANC) prototypes exhibited at Computex demonstrated the progress Noctua has made in its ANC project with RotoSub. While the 120mm ANC fan for watercooling radiators is still at an earlier stage, development on the 140mm CPU cooler project is almost completed. Based on the NH-D14, the upcoming R-ANC cooler promises to deliver substantial performance improvements over Noctua's current flagship model. Noctua is now working to implement the RotoSub ANC system in mass production and aims for a release in Q2/Q3 2014.