NHK Showcases Latest 8K Super Hi-Vision Technologies
Japan Broadcasting Corporation (NHK) will be holding its anual Open House 2015 exhibition this week, where the latest developments related to the 8K Super Hi-Vision (SHV) technologies will be on public display.
The event will be held at the NHK Science and Technical Research Laboratories (STRL) in Tokyo Setagaya, from May 28 to May 31.
At 7,680 pixels by 4,320 pixels, the resolution of 8K, which NHK also calls Super Hi-Vision, is 16 times that of standard HD and four times that of 4K TVs. Uncompressed Super Hi-Vision signals can run about 24 Gbps or even 48 Gbps at 120 frames per second. It also has a 22.2 multichannel sound system.
NHK plans to start testing 8K satellite broadcasts next year, with general broadcasting set to start in 2018. Japanese aim at a full-scale coverage of the 2020 Olympic Games (Tokyo) in full 8K.
But viewers may be able to create their own custom broadcasts with a service called Hybridcast. Launched in September 2013, the broadband service lets viewers see interactive graphics and information linked to a program they're watching, such as the map of a golf course and leader boards below live shots from a golf tournament.
The latest Hybridcast improvements for 8K in which viewers can create their preferred cuts of a given broadcast. Viewers using HTML5 tablets linked to the Hybridcast service can record brief segments of 8K video at will and even choose their preferred angle when multiple cameras have been used. Four camera angles taken from a Japanese pop band concert were displayed on the tablet and, once selected, the preferred angle was seen on a large-screen TV nearby.
NHK hopes to begin test offerings of the service in 2018.
The broadcaster will demonstrate a Hybridcast video player that works with the MPEG-DASH streaming protocol. The player was linked to a Hybridcast TV, as well as browsers on some nearby mobile devices, such as tablets running Chrome and Explorer and a laptop running Safari, so that they all played the same content simultaneously. The technology is able to monitor the reception status of linked devices.
Among the many interesting developments in the event is a projector that can display full-specification 8K Super Hi-Vision images (8K full resolution, 120-Hz frame rate, wide-gamut system colorimetry) on a large screen.
Developed in collaboration with JVC Kenwood, the device is able to project 8K, vivid images with less motion blur on a 450-inch screen. It uses three 1.3-inch panels driven at a 120-Hz frame rate. Red, green and blue laser diodes are used as light sources. The projector's brightness is 8,000 lumens ant its dynamic range is 5,000: 1.
An single multilink optical cable can input full-specification 8K video signals (approx. 144 Gbps) to the projector.
NHK has also developed a laser-backlit LCD (4K) that supports wide-gamut system colorimetry for ultra-high definition T V (4K/8K). Ultra-high definition TV employs wide-gamut system colorimetry (a system to quantify colors) that can accurately reproduce saturated colors out of the HDTV gamut.
The LCD uses laser diodes (red, green, and blue) as a backlight source. It gamut coverage ratio is 98%, according to NHK.
In addition, NHK's engineers have developed a high-quality gamut mapping device to convert video in the wide gamut into video in the HDTV color gamut in real time. The gamut mapping device minimizes perceptual hue changes. It does not cause significant texture loss and discontinuous tones, which are generated with simpler gamut mapping algorithms commonly used.
As NHK is moving to promote the 8K SHV, they also continue research in the field of large, thin, and lightweight sheet-type OLED displays for 8K Super Hi-Vision This year, NHK is also exhibiting a display driving technology that reduces blur in OLEDs and an inverted OLED that will extend the lifetime of displays.
To solve the problem of motion blur of OLED displays, NHK has developed a driving method to control the temporal aperture of a panel. By suppressing instantaneous luminance changes, a longer lifetime as well as an improvement in video quality can be expected.
A flexible display has been developed using an inverted OLED that has high stability in air. With a structure opposite to that of conventional OLEDs, the device can use new materials that are resistant to oxygen and moisture. It will lengthen the lifetime of displays using plastic film substrate with low gas-barrier properties.
New Holographic Storage System For Archiving 8K Content
NHK, in cooperation with Nippon Steel & Sumikin Chemical Co., Ltd, have developed a high-density holographic memory for long-term storage of 8K Super Hi-Vision (8K) programs.
The optical storage system supports high-density storing of large amounts of multiplexed data onto a holographic medium. The system also reads (playback) the compressed 8K video data from the medium.
Previously, NHK's researchers had used the "angle multiplexing" method that recorded data by changing the angle of incident light on the optical medium. For the new system, a new "two-dimensional angle multiplexing" method has been applied. This method uses the position of the recording medium as an additional multiplex axis, increasing the multiplex number by four times over the single-angle multiplexing approach.
A holographic memory is used to record and reproduce compressed 8K video signals. In addition to the parallel signal processing method that had been previously disclosed, NHK has improved the mechanical system in order to enable a stable reproduction.
NHK hopes that the new holographic system will be established as a new way for archiving 8K video.
Working towards a high-quality 3D TVs
NHK is also continuing the research to make Integral 3D Television a part of their future broadcast offerings. To achieve high-quality integral 3D imagery, NHK is researching a technique to increase the number of pixels using multiple display devices.
By using multiple cameras and display devices, the number of pixels has been increased in order to achieve a high-quality 3D imagery. A newly developed integral 3D capturing equipment uses many cameras along with a large number of micro-lenses in a lens array to capture integral 3D imagery consisting of approximately 100,000 pixels.
NHK will showcase a 3D, glasses-free stereoscopic 3D TV. A 9.6-inch prototype panel is the world's smallest 8k TV to use about 10 million pixels in order to display 3D video. Its pixel density is 915ppi and is capable of showing video at 60fps.
In addition to the above mentioned 3D TV, NHK's researchers have been studying a ultra-high-density spatial light modulators (SLMs) with very large numbers of pixels, which is considered a crucial technology for future holographic 3D televisions.
Spatial light modulator is a device consisting of a 2D arrangement of tiny optical elements (equivalent to pixels) that is able to control the state of light
(amplitude, phase, etc).
The latest development is a narrow pixel-pitch SLM driven by spin transfer switching, which uses an active matrix driving method and can operate under low driving current. Active matrix driving method is a method to individually operate selected pixels by allocating switching elements as transistors for each pixel.
In order to be able to observe holographic 3D images from various angles, we need ultra-high-density spatial light modulators with very narrow pixel pitches. By increasing the density of the spatial light modulator driven by spin transfer switching, NHK's researchers have succeeded in narrowing the pixel-pitch by 60%.
In addition, a new device uses innovative light modulator elements as pixels. This technology is based on the tunnel magneto-resistance effect which draws less electrical current than conventional methods. It operates by spin transfer magnetization reversal, whereby the magnetizing direction of light modulator elements is controlled by the direction of current flowing through each pixel.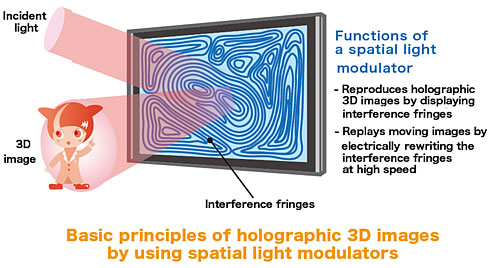 Tunnel magneto-resistance effect is a phenomenon whereby the electrical resistance of an insulating layer, placed between two magnetic layers, alters depending on the relative angle of the two magnetic layers.
In the future, in order to achieve a narrow pixel-pitch, ultra-high-resolution spatial light modulator, NHK aims to develop a nano-scale-fabrication process and further improve its light modulator elements.