New WD Sentinel RX4100 Rack-Mount Storage Server Released
WD expands its product portfolio addressing small- and medium-sized businesses (SMB) with the addition of WD Sentinel RX4100, its first 1U rack-mount small business storage server. WD Sentinel RX4100 is a simple way for SMBs to centralize and store all of their documents and digital assets in one location. While installation and setup is simple, the product delivers enterprise-class features such as RAID protection, automatic server-based backup and restoration capabilities, redundant network and power options, as well as integrated network attached storage (NAS) functionality and iSCSI SAN capabilities for virtualized network environments.
The server comes with Microsoft Windows Storage Server 2008 R2 Essentials operating system and includes the software to back-up 25 Windows and Mac OS client computers in the network. The product features pre-installed WD hard drives, factory configured in RAID 5 for data protection against drive failure.
Backing up and restoring stored data is automated with options for complete bare-metal backup and restoration of the entire system, as well as incremental backups and restoration for specific files. Mac OS systems can back up to WD Sentinel RX4100 using Time Machine backup utility. In the event of a accidental data loss or computer failure, WD Sentinel's easy restore function finds lost files, and then restores them to their previous location, or allows for restoration of the entire computer image, including the OS, program files, data and settings.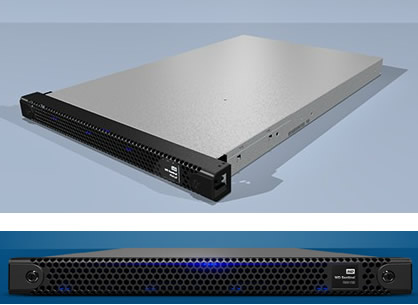 WD Sentinel RX4100 also serves as "on-premise cloud storage," securing data in one central location in the office that can then be accessed from anywhere, encouraging collaboration among employees in distributed offices or among remote workers from any device via a web browser. WD also offers a third party disaster recovery option with KeepVault online storage that comes standard in the WD Sentinel RX4100 dashboard.
WD Sentinel RX4100 is certified to be compatible with Windows XP, Windows Vista, Windows 7, Windows 8, as well as Mac OS X Leopard, Snow Leopard, Lion and Mountain Lion. The system is available with populated drive configurations in 8 TB, 12 TB and 16 TB capacities at a Manufacturer?s Suggested Retail Price (MSRP) of $1,899.00 USD for 8 TB, $1,999.00 USD for 12 TB and $2,349.00 USD for the 16 TB configurations. The storage servers are covered by a three-year limited warranty.
Specifications
- Interface: Gigabit Ethernet x2, USB 3.0 x2
- Capacity: 8 TB, 12 TB, 16 TB
- CPU: Intel Atom Dual Core 1.80 Ghz
- Operating System: Windows Storage Server 2008 R2 Essentials
- Supported Web Browsers
Internet Explorer
Apple Safari
Mozilla Firefox
Google Chrome
- Network Authentication: Active Directory join
- Network protocols: CIFS/SMB, AFP, NFS, HTTP, HTTPS, FTP, WebDAV, Bonjour
- File Sharing Protocols: CIFS/SMB, AFP, NFS, FTP, WebDAV
- RAID Levels: Automatic migration and capacity expansion
- Dimensions:
Height 44 mm
Depth 660 mm
Width 482.1 mm
Weight 12.298 kg
- Temperature
Operating -0° C to 35° C
Non-operating -40° C to 65° C
- AC Input Voltage: 100-240 VAC
- AC Input Frequency: 50-60 Hz
- Compatibility Windows/Mac