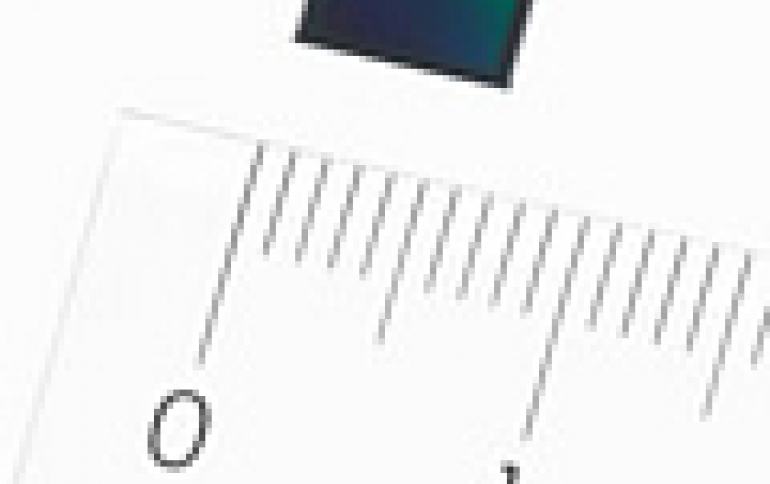 New Sony 22.5 Megapixel Exmor RS Stacked CMOS Image Sensor Features Built-in Hybrid Autofocus and 3-Axis Electronic Image Stabilization
Sony is commercializing the IMX318, a new Exmor RS image sensor for smartphones and other devices that require increasingly better cameras and thinner form factors. The IMX318 is a type 1/2.6 stacked CMOS image sensor with 22.5 effective megapixels, and it boasts a more compact size, greater image quality, and higher performance. This new Exmor RS is the first to be equipped with built-in high-speed hybrid autofocus ("AF"), as fast as 0.03 seconds, and built-in 3-axis electronic image stabilization technology for video.
The IMX318 boasts a stacked structure and the industry's smallest unit pixels, which measure 1.0?m (micrometers) in size. With this, the image sensor achieves a compact, type 1/2.6 size suitable for inclusion into smartphones, while still realizing a high resolution of 22.5 effective megapixels. This new image sensor not only boasts enhanced resolution, but it also matches its predecessor in image quality despite the IMX318's smaller size and unit pixels (IMX230 predecessor model: type 1/2.4 sensor with 1.12?m unit pixel size). Additionally, Sony has succeeded in equipping the IMX318 with digital imaging features, namely high speed built-in hybrid AF and 3-axis electronic image stabilization for video.
Hybrid AF, which merges image plane phase detection AF with contrast detection AF, has previously been realized through the combination of an image sensor and an application processor. But with the IMX318, Sony has created the first stacked CMOS image sensor with hybrid AF built into the sensor's internal signal processor. The IMX318 leverages Sony's high-speed AF technology boasting an AF as fast as 0.03 seconds (and as fast as 0.017 seconds when shooting video at 60fps).
With the IMX318, Sony has also created the first stacked CMOS image sensor with image stabilization functionality built into its internal signal processor. This sensor leverages the image stabilization technology, realizing smooth 4K videos with little camera shake by making effectively use of the signal output obtained from the external 3-axis (pitch, yaw, and roll) gyro sensor. Sony's image stabilization technology incorporated into the IMX318 corrects not only camera shake, but also lens distortion. Furthermore, because image stabilization is achieved by processing within the hardware of the image sensor, less power is used than when it is accomplished by software processing in the external application processor.
Sony has adopted the MIPI (Mobile Industry Processor Interface) Alliance's latest C-PHY 1.0/D-PHY 1.2 specifications for this image sensor's interface. With this interface, the IMX318 is able to achieve more power efficient and faster data transmission from the image sensor to the application processor. As a result, even at the high resolution of 22.5 megapixels, transmission is realized for all pixels at 30fps. This enables seamless switching between high resolution video and still image photography. Since the image sensor can transmit greater-than-4K resolution images for all pixels to the application processor, the user can capture 22.5 megapixel still images even while in the middle of recording video in 4K at 30fps.
Sony aims to begin shipments for this new CMOS image sensor in May, 2016.
Model name
IMX318
Effective pixel count
5488 (H) x 4112 (V) 22.5 megapixels
Image size
Diagonal 6.858mm (Type 1/2.6)
Unit cell size
1.00μm (H) x 1.00μm (V)
Frame rate
Full
30fps
Movie

4K (3840 x 2160)

30fps

1080p

120fps

720p

240fps

Sensitivity (standard value: F5.6)
61mV
Sensor saturation signal (minimum value)
330mV
Power supply
Analog
2.8V
Digital
1.05V
Interface
1.8V
Key features
Hybrid AF, 3-axis image stabilization for video, HDR imaging, lens resolution correction, white spot correction, NR
Output
MIPI C-PHY 1.0 (3 trio) / D-PHY 1.2 (4 lane)
Image format
Bayer RAW