New OCZ Vector 150 Solid State Drive Series Released
OCZ Technology today announced its new Vector 150 SATA III SSD Series that utilizes the latest 19 nanometer (Toshiba) NAND flash process geometry and an in-house Barefoot 3 controller design. The Vector 150 SSD Series promises to offer sustained speeds over time regardless of whether the data is in compressed or uncompressed formats. It supports read bandwidth of up to 550 MB/s, write bandwidth of up to 530 MB/s, 4K random read speed of up to 100,000 input/output operations per second (IOPS), 4K random write speed up to 95,000 IOPS and sustained 4K random write performance of 26,000 IOPS.
The Vector 150 SSDs are rated to deliver 50GB of host writes per day for a 5-year warranty term. OCZ's Barefoot 3 controller features a suite of flash management tools that can analyze and dynamically adapt to increasing NAND vulnerabilities as flash cells wear and is designed to overcome limitations associated with MLC NAND flash memory.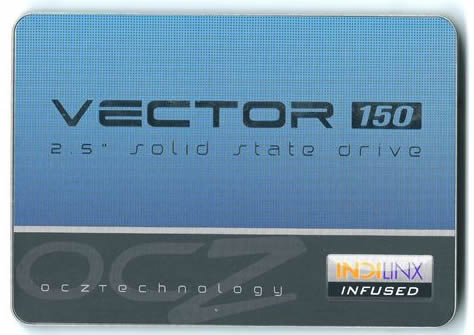 The Vector 150 SSD Series is available in 120GB, 240GB, and 480GB capacities with 7mm alloy housing to support today's thin form factor notebooks. Vector 150 SSDs are also bundled with a 3.5-inch desktop adapter bracket and Acronis True Image cloning software to enable quick data transfer from legacy hard disk drives to high performance SSD storage.
Street prices:
- Vector 120 GB, €135
- Vector 240 GB, €250
- Vector 480 GB, €525
Specifications
 

120GB

240GB

480GB

Controller

Indilinx Barefoot 3

NAND

19nm Toshiba MLC

DRAM Cache

512MB

512MB

1GB

Sequential Read

550MB/s

550MB/s

550MB/s

Sequential Write

450MB/s

530MB/s

530MB/s

4KB Random Read

80K IOPS

90K IOPS

100K IOPS

4KB Random Write

95K IOPS

95K IOPS

95K IOPS

Steady-state 4KB Random Write

12K IOPS

21K IOPS

26K IOPS

Power Consumption

0.55W Idle / 2.5W Active

Warranty

5 years / 91TB of writes