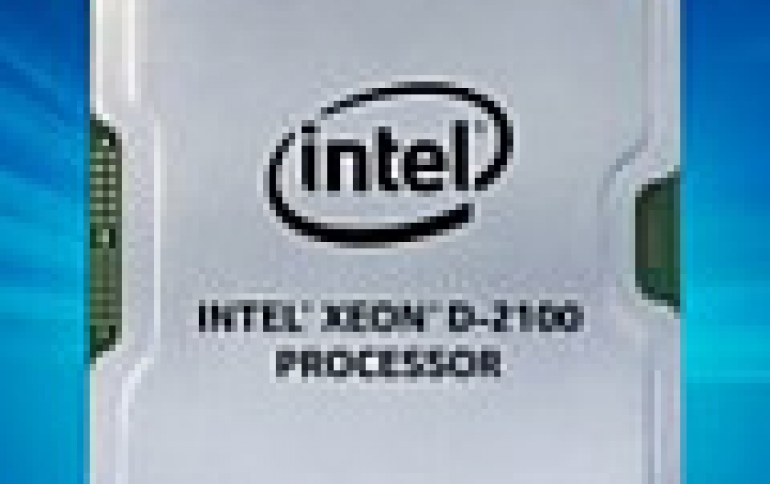 New Intel Xeon D-2100 Series Includes the Company's Fastest Low-power Processors
Intel today introduced the new Intel Xeon D-2100 processor, a system-on-chip (SoC) processor aimed at lower-power, high-density edge solutions, integrating essential network, security and acceleration capabilities.
"The Intel Xeon D-2100 processor allows service providers and enterprises to deliver the maximum amount of compute intelligence at the edge or web tier while expending the least power, "said Sandra Rivera, senior vice president and general manager of the Network Platforms Group at Intel.
The new chips are designed and manufactured with Intel Mesh architecture and using Intel's 14nm silicon process technology. They include up to 18 "Skylake-server" generation Intel Xeon processor cores (36 threads) and integrated Intel QuickAssist Technology with up to 100 Gbps of built-in cryptography, decryption and encryption acceleration. Integrated capabilities also include hardware-enhanced virtualization technologies, quad-port 10 gigabit Ethernet (4x10 GbE), 16 Serial ATA (SATA) ports, and Intel Advanced Vector Extensions 512 (Intel AVX-512).
They new processors feature up to 512 GB DD4-2666 ECC of addressable memory and up to four channels memory support, with their cores to be clocked at frequencies of up to 3.0 GHz with single-core Intel Turbo Boost Technology 2.0. This system-on-a-chip has an integrated Platform Controller Hub (PCH), integrated high-speed I/O (up to 20 lanes), and a thermal design point (TDP) of 60 watts to 110 watts.
In addition, Intel says the new processors will be supported by system software updates to protect from the security exploits referred to as "Spectre" and "Meltdown."
In the D-2100 line up there are 15 processors in all, ranging from the 18-core Xeon D-2191, which is priced at $2,407, to the 8-core D-2145NT, priced at $502.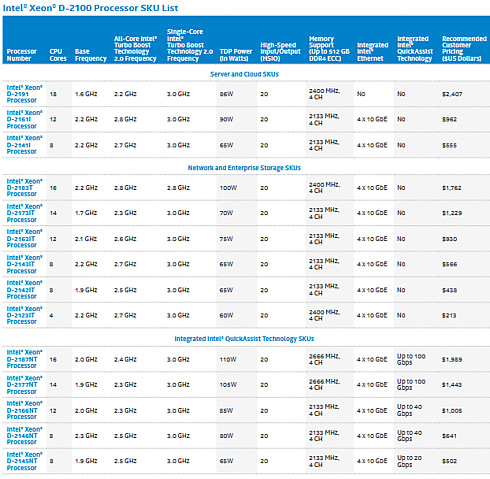 According to data supplied by Intel, the D-2100 offers up to 29 percent L3 data transfer performance improvement, up to 2.9 times the network performance improvement, and up to 2.8 times storage performance improvements compared to its D-1500 chips.
However, Intel is quick to note that all the performance tests and benchmark data it supplied were obtained prior to implementation of recent software patches and firmware updates intended to address the Spectre and Meltdown vulnerabilities.
Intel Xeon D-2100 processors promise to enable greater performance and hardware-enhanced security to the network edge in support of the workloads that demand more compute, analytics and data protection closer to endpoint devices. For example, the new processors will help communications service providers CoSPs offer multi-access edge computing (MEC), which allows software applications to tap into local content and real-time information about local-access network conditions, reducing mobile core network of network congestion.
The new processors will also enable CoSPs to deliver higher-capacity workload-optimized networking services with performance at lower power in virtual customer premise equipment (vCPE) such as VPNs and encryption services.
Besides its capabilities in powering communications service provider networks, the Intel Xeon D-2100 processor also is suited for other power- and space-constrained use cases, including cloud storage Content Delivery Networks (CDNs), enterprise SAN and NAS storage, midrange routers, network appliances, security appliances, wireless base stations and embedded midrange IoT usages, among others.