New BlackBerry Q5 Announced For Select Markets
Onstage at the BlackBerry Live conference in Orlando, Thorsten Heins, President and CEO, BlackBerry, announced the BlackBerry Q5 smartphone, running BlackBerry 10. In addition, an update to BlackBerry 10 software has been released with new features. The BlackBerry Q5 smartphone features a classic BlackBerry Keyboard with discrete keys that has been re-engineered and designed to help you type fast. Plus with Instant Action shortcuts you can type to perform tasks faster. Besides the keyboard, the smartphone also features a 3.1" touchscreen.
With BlackBerry Time Shift mode and the BlackBerry Story Maker, you can create the picture perfect shot, then create and share your story, weaving together your photos, videos and music into a movie.
You can also instantly switch your BBM (BlackBerry Messenger) chat to a BBM Video conversation and catch up face-to-face. You can even share your screen, whether it's a photo, a page in the browser, an idea, or a view from your camera.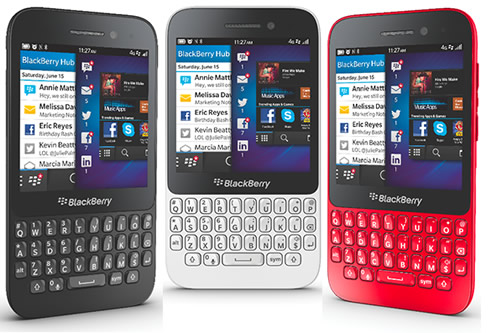 With BlackBerry Hub, all of your messages and social conversations are only one swipe away. Simply peek into the BlackBerry Hub from anywhere with a swipe to flow in and out of your messages and conversations.
The device also provides access to more than 100,000 apps on the BlackBerry World storefront.
The new BlackBerry Q5 smartphone will be available in selected markets in Europe, the Middle East, Africa, Asia (including the Asia Pacific region), and Latin America, with availability beginning in July.
BlackBerry 10.1 update rolling out to Z10 owners
Thorsten Heins also announced an update to BlackBerry 10 software for Z10 users, which will be rolling out with BlackBerry's carrier partners over the coming weeks.
New BlackBerry 10.1 Features:
- BlackBerry Hub: The BlackBerry Hub lets you access all your messages and notifications in one place. With BlackBerry 10.1 support for PIN to PIN messages for direct communication between BlackBerry smartphones has been added to the BlackBerry Hub. Plus, improved attachment support in the BlackBerry Hub makes it easier to view emails which have been sent as attachments to other messages.
- Notifications: With BlackBerry 10.1 you can personalize the notifications for your accounts and contacts so you always know what is happening around you. Customize ringtones, vibration and the LED light by contact or by account for more personalized notifications.
- Fine Cursor Control: BlackBerry 10.1 makes it easier and more accurate to pinpoint exactly where you want to type. Tap once to bring up the cursor. Grab the blue circle and drag it around to place it exactly where you need it. Tap either side of the circle to move left or right by just one character.
- Camera: BlackBerry 10 lets you create the perfect shot by moving parts of your picture backwards and forwards in time with Time Shift mode. BlackBerry 10.1 adds an HDR shooting mode for beautiful images in tricky lighting conditions. A standard image takes a picture at one exposure level. Where you have high contrast between light and dark areas of the photo, fine details can be lost. High Dynamic Range (HDR) mode takes multiple pictures at different exposure levels and layers them automatically to produce a single photo that combines the best of the dark and light areas.
- Lots of improvements across the BlackBerry 10 OS like landscape support for the calendar, easier international dialing, improved red eye reduction in the picture editor and much more.
Updating to BlackBerry 10.1 is free. To update your BlackBerry Z10 smartphone to BlackBerry 10.1 look for the alert in the notifications section of the BlackBerry Hub. You can also check for software updates through the settings menu by visiting the software updates section. The download will happen in the background and the update will be applied without needing to back up your smartphone. Blackberry recommends you have a current backup of your BlackBerry Z10 smartphone readily available.
Heins also said BlackBerry would offer BlackBerry Messaging, free of charge, to consumers using rival phones. BlackBerry Messenger (BBM) will be available to iOS and Android users this summer, with support planned for iOS6, and Android 4.0 (Ice Cream Sandwich) or higher, all subject to approval by the Apple App Store and Google Play.
In the planned initial release, iOS and Android users would be able to experience BBM chats, including multi-person chats, as well as the ability to share photos and voice notes, and engage in BBM Groups, which allows BBM customers to create groups of up to 30 people.
BlackBerry also announced BBM Channels, a new social engagement platform within BBM that will allow the company's customers to connect with the businesses, brands, celebrities and groups. Users will be able to create, edit and publish in an instant, and there will be no limits to the number of followers they can have in their channel. They will also be able to subscribe to channels in order to get timely and relevant updates, "comment" and "like" posts from channels they subscribe to. BBM with BBM Channels is now available in beta for BlackBerry 10 smartphones, as well as BlackBerry smartphones running BlackBerry 5 OS through 7.1. For BlackBerry OS customers, BBM Channels is part of the new BBM version 8.
BlackBerry plans to add support for BBM Channels as well as voice and video chatting for iOS and Android later this year, subject to approval by the Apple App Store and Google Play.
BlackBerry Enterprise IM 3.0
BlackBerry also today unveiled BlackBerry Enterprise Instant Messaging (Enterprise IM) 3.0, a free update of the company?s enterprise instant messaging solution, enabling customers with BlackBerry 10 smartphones to securely communicate over Microsoft Lync, Microsoft Office Communication Server or IBM Lotus Sametime.
BlackBerry Enterprise IM 3.0 works with BlackBerry Enterprise Service 10 version 10.1, BlackBerry's multi-platform enterprise mobility management (EMM) solution, and BlackBerry 10 smartphones to protect Microsoft Lync, Microsoft Office Communication Server or IBM Lotus Sametime communications by encrypting data from end-to-end. The client app supports presence, real-time one-to-one and multi-party instant messaging, the ability for a user to update their profile and change their status, as well as to instantly switch from a text chat to a voice call. Messages are integrated within the BlackBerry Hub for convenience, and the solution supports the separation of enterprise IMs from personal apps and content with BlackBerry Balance.
BlackBerry Enterprise IM 3.0 is available now at no charge for BlackBerry Enterprise Service 10 version 10.1 and BlackBerry 10 smartphones and can be downloaded
here
. It supports Microsoft Lync 2010 and 2013, Microsoft Office Communication Server 2007 R2 and IBM Lotus Sametime 8.5 and 8.5.2.