4. Remake a DVD
Nero Recode 2 software - Page 04
Remake a DVD
This time choose "Remake a DVD". This is the screen you will see after your selection: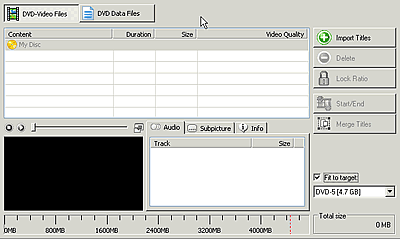 Once again you import the titles you want, even if they are from different movies. You can create your own DVD using parts from different DVD sources, remove subtitles or audio tracks, trim the movie and fit it in a blank 4.7GB DVD disc. The settings are familiar with those in the previous pages. If you read carefully the two other projects we have described, you will easy manage to continue with this one.
This time of course you can burn the compilation you have chosen in a 4.7 GB media or to your hard drive. The output format is either DVD-Video or DVD ISO/UDF (data). No MPEG-4 encoding is available in this task.
In case of DVD-Video, user should import DVD files from a Video TS folder on his hard disk. Note that Nero Recode 2 will only work with VOB, IFO and BUP files. You cannot import MPEG, AVI, WMV, ASF, MP4 or DV files directly.
Of course there are many other setting that will probably make your work easier. We hope you have get a basic idea of the software. More information will be available very soon. Stay tuned!