3. DVD5 to MPEG4
Nero Recode 2 software - Page 03
DVD5 to MPEG4
Nero Digital can convert a 4.2 GB DVD-Video movie to an MPEG-4 video file of 692MB, which fits on a CD-R!
This time you should select the last option of the three as illustrates in the picture below:
Here is the main screen, almost the same as in the previous section.
Next you should import the movie. Follow the same steps as in the previous description, "Import Titles", "Browse", analyzing etc. Notice that in this project you should import only titles, not all the folder. Choose the titles you want and press "Add Title" for each title and "Finished" for return to the main screen.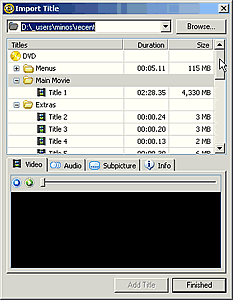 Below is what you will see after those steps. We selected only the "Title 1" from the main movie:
You can also define the start and the end of your movie by pressing the "Start/End" button. This means that the movie can be cut or changed (shortened) according to your personal taste For example, you are able to start your movie from chapter 4.
Set the starting and the finishing chapter and adjust the slide bars, if you want to remove some frames. When you finish press "OK". You will return to the previous screen. Select the audio and subtitles you want (as we have describe in the previous page) and press "Next".
User is able to select the size of the final MPEG-4 video to fit on a 74min CD-R, 80min CD-R, 4.7GB DVD recordable or any other custom capacity.
The basic quality settings are gathered in the following screenshot. The quality settings (profiles) can be set either by the user or the Nero Recode (default profiles). For example, you can assign the best quality for the main movie only, extras only or choose the even quality option, for a flat encoding bitrate:
More details about the MPEG-4 encoding capabilities of the software will be added in this section soon. Notice that the MPEG4 conversion will take much time, which is strongly related to your CPU power.
After encoding, we proceed to burning the video files to our CD-R/DVD discs, as we mentioned in the previous page.