MWC: Microsoft HoloLens 2 AR Headsets Available For Preorder Priced at $3,500
Microsoft announced at MWC 2019 the HoloLens 2, teh next version of the company's AR goggles, shipping next later this year for $3,500.
The HoloLens 2 device overlays computer images on the real world, in what Microsoft calls "mixed reality. Microsoft promises arrows directing you down the street as you walk, or repair instructions to float over a machine as you fix it.
Microsoft says the Hololens 2 provides greater immersion by making holograms even more vibrant and realistic as a result of many advancements across the board, including in the visual display system.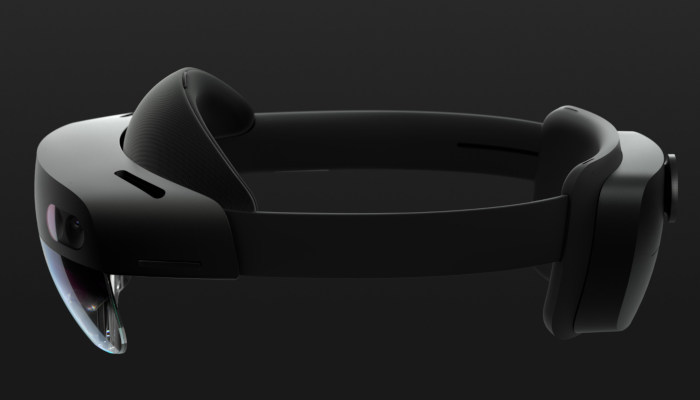 The company has more than doubled the field of view in HoloLens 2, while maintaining the holographic density of 47 pixels per degree of sight.
Microsoft has also refreshed the way users interact with holograms in HoloLens 2. Taking advantage of a new time-of-flight depth sensor, combined with built-in AI and semantic understanding, HoloLens 2 enables direct manipulation of holograms with the same instinctual gestures users use to interact with physical objects in the real world. In addition to the improvements in the display engine and direct manipulation of holograms, HoloLens 2 contains eye-tracking sensors that make interacting with holograms even more natural. Users can log in with Windows Hello enterprise-grade authentication through iris recognition, making it easy for multiple people to quickly and securely share the device.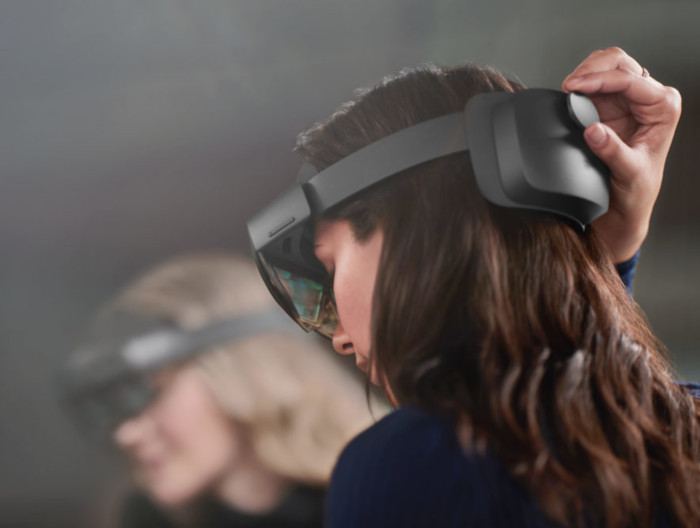 Comfort is enhanced by a more balanced center of gravity, the use of light carbon-fiber material and a new mechanism for donning the device without readjusting. Microsoft has improved the thermal management with new vapor chamber technology and accounted for the wide physiological variability in the size and shape of human heads by designing HoloLens 2 to comfortably adjust and fit almost anyone. The new dial-in fit system makes it comfortable to wear for hours on end, and users can keep their glasses on because HoloLens 2 adapts to users by sliding right over them.
However, Hololens 2 is not ready for end users. Microsoft is focused on companies and the military. The company says the new device is designed primarily for people such as manufacturing workers, industrial designers and those in the military, and for situations where field workers might need to work hands-free.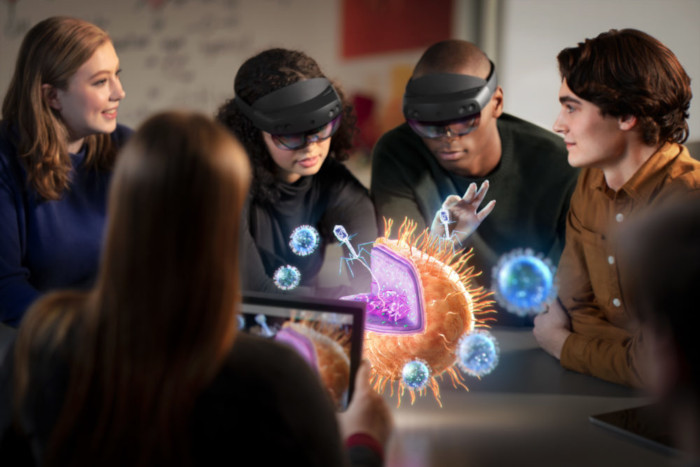 Microsoft first released the original HoloLens augmented reality headset in 2016, charging companies $5,000 apiece. Since then rival devices, such as the $2,295 Magic Leap, have come on the scene.
Microsoft is also releasing mixed reality applications like Dynamics 365 Remote Assist, Dynamics 365 Layout and the new Dynamics 365 Guides applications. And the company's mixed reality partners provide a broad range of offerings built on HoloLens that deliver value across a range of industries and use cases.
Building on the capabilities of the original HoloLens, HoloLens 2 is an intelligent edge device. And when coupled with existing and new Azure services, HoloLens 2 becomes even more capable, right out of the box.
Bundles including Dynamics 365 Remote Assist start at $125/month.
Priced at $3,500, HoloLens 2, along with Magic Leaps' offering ( the $2,295), are far more expensive than the competing VR technology currently on the market. Facebook's Oculus Rift, for example, is $349, HTC's Vive is $499 and Sony's PlayStation VR is $299. You have to buy a computer or PlayStation 4 console to power these VR devices, but even then their prices are at least half what Microsoft is asking.
HoloLens 2 will be initially available in the United States, Japan, China, Germany, Canada, United Kingdom, Ireland, France, Australia and New Zealand.
Azure Kinect Developer Kit (DK)
Microsoft also announced at MWC the Azure Kinect DK, a developer kit that combines the company's AI sensors in a single device.
At its core is the time-of-flight depth sensor Microsoft developed for HoloLens 2, high-def RGB camera and a 7-microphone circular array that will enable development of advanced computer vision and speech solutions with Azure. It enables solutions that don't just sense but understand the world — people, places, things around it. An example of such a solution in the healthcare space is Ocuvera, which is using this technology to prevent patients from falling in hospitals. Every year in the U.S. alone, over 1 million hospital patients fall each year, and 11,000 of those falls are fatal. With Azure Kinect, the environmental precursors to a fall can be determined and a nurse notified to get to patients before they fall. Initially available in the U.S. and China, the Azure Kinect DK is available for preorder today at $399.
Dynamics 365 Guides
Microsoft announced Dynamics 365 Remote Assist and Dynamics 365 Layout on October 1 and talked about them as the "first" of its mixed reality applications for HoloLens.
Today, Microsoft announced its latest offering: Microsoft Dynamics 365 Guides.
Dynamics 365 Guides is a new mixed reality app that empowers employees to learn by doing. Guides enhances learning with step-by-step instructions that guide employees to the tools and parts they need and how to use them in real work situations. In addition to the experience of using Guides on HoloLens, a Guides PC app makes it easy to create interactive content, attach photos and videos, import 3D models and customize training to turn institutional knowledge into a repeatable learning tool.
This application becomes the third Dynamics 365 application that will work on both the previous generation of HoloLens and the new HoloLens 2.
Dynamics 365 Guides is available in preview starting today.
Azure Mixed Reality Services
Today Microsoft also announced two new Azure mixed reality services. These services are designed to help every developer and every business build cross-platform, contextual and enterprise-grade mixed reality applications.
Azure Spatial Anchors enables businesses and developers to create mixed reality apps that map, designate and recall precise points of interest that are accessible across HoloLens, iOS and Android devices. These precise points of interest enable a range of scenarios, from shared mixed reality experiences to wayfinding across connected places.
Azure Remote Rendering helps people experience 3D without compromise to fuel better, faster decisions. Today, to interact with high-quality 3D models on mobile devices and mixed reality headsets, you often need to "decimate," or simplify, 3D models to run on target hardware. But in scenarios like design reviews and medical planning, every detail matters, and simplifying assets can result in a loss of important detail that is needed for key decisions. This service will render high-quality 3D content in the cloud and stream it to edge devices, all in real time, with every detail intact.
Azure Spatial Anchors is in public preview as of today. Azure Remote Rendering is now in private preview in advance of its public preview.
Microsoft HoloLens Customization Program
HoloLens is being used in a variety of challenging environments, from construction sites and operating rooms to the International Space Station. HoloLens has passed the basic impact tests from several protective eyewear standards used in North America and Europe. It has been tested and found to conform to the basic impact protection requirements of ANSI Z87.1, CSA Z94.3 and EN 166. With HoloLens 2 Microsoft is introducing the Microsoft HoloLens Customization Program to enable the company's customers and partners to customize HoloLens 2 to fit their environmental needs.
The first to take advantage of the HoloLens Customization Program is Trimble, which last year announced Trimble Connect for HoloLens along with a new hard hat solution that improves the utility of mixed reality for practical field applications. Today it announced the Trimble XR10 with Microsoft HoloLens 2, a new wearable hard hat device that enables workers in safety-controlled environments to access holographic information on the worksite.
Microsoft also announced that Mozilla are bringing a prototype of the Firefox Reality browser to HoloLens 2.
Tim Sweeney, founder and CEO of Epic Games, announced that Unreal Engine 4 support is coming to HoloLens.