3. Tests - 3DMARK
Our main goal in this test was to compared MSI's 7600GT with several previous Nvidia cards, like the 6600GT and 7800GT, all with passive cooling. Our PC setup was as follows:
Abit IL8 (Intel 945p) + Intel D930
Thermaltake Soprano Case
Thermaltake TR2-420Watt PSU
Mushkin 2x512 DDR2-6400
WD 800JB 7200RPM HDD
Viewsonic 19" LCD VP930b (1280x1024 resolution)
Nvidia Forceware v93.11 (latest available beta)
Windows XP SP2 with all latest updates installed
While for benchmarking, we used:
3D Mark 05 v1.2.0
3D Mark 06 v1.2.0
F.E.A.R. v1.06
Prey v1.00
Half Life 2 Episode 1
Splinter Cell - Chaos Theory v1.05
3D Mark 05 v1.2.0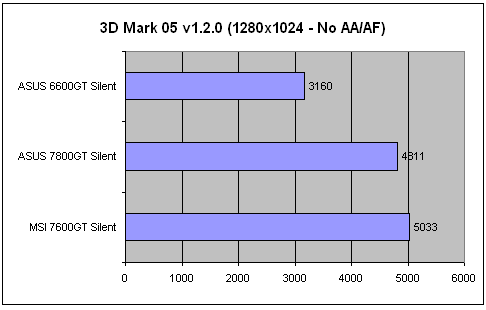 3D Mark 05 is a well known benchmark utility, that represents the combination of CPU+VGA strength. MSI's 7600GT produced a quite high score of 5033 (we double checked to be sure), while the ASUS 7800GT was lower, with 4811 marks.
Passing on to 3D Mark 06, both the 7600GT and 7800GT were close, with scores just above the 3200 mark. The ASUS 7800GT had a slight advantage of 51 marks.