Motorola to Sell Droid Business Phone
Motorola said on Tuesday Verizon Wireless would sell the Droid Pro, the mobile phone maker's first device for business customers based on Google Inc's popular Android operating system. Verizon Wireless and Motorola unveiled DROID PRO, a new, solution designed to meet both business and personal needs. The first Android-based smartphone optimized for business use, DROID PRO supports full push corporate e-mail with corporate level security; unified calendar with additional work features; pre-loaded Quickoffice Mobile Suite, an 1 GHz processor; 4 GB of memory (2 GB internal; and 2 GB removable) and a QWERTY keyboard designed for speed and convenience.
Key features and specifications:
- Support for both Exchange e-mail and Gmail for business
- Corporate directory look-up, unified calendar for Enterprise and sync with Google Calendar
- PC-like browsing with Adobe Flash Player 10.1 on a multi-touch, 3.1-inch display built on Android 2.2
- View, edit and share documents, including Microsoft Excel spreadsheets, PowerPoint presentations and Word documents
- Built-in security features, including AuthenTec IPSec multi-headed VPN integration, remote wipe of device and SD card, and complex password support. Device and SD card encryption will be available in early 2011
- 3G Mobile HotSpot capabilities ? Allows customers to connect up to five other Wi-Fi-enabled devices and laptops
- Live widgets that stream e-mail messages to the home screen; customers can filter the widgets to separate work and home e-mail
- 5-megapixel camera with auto focus and dual LED flash as well as DVD-quality video
- 3G diversity antennae provides customers with enhanced data speeds and range
- Wi-Fi-enabled DNLA connectivity
- Android Market ? Provides customers with access to more than 80,000 applications
- My Verizon and Backup AssistantSM support ? Allows customers to manage their wireless accounts or their contacts from their phones
DROID PRO will be available at www.verizonwireless.com and in Verizon Wireless Communications Stores in the coming weeks. Pricing will be announced closer to launch, verizon said.
Even more Android phobes
Motorola also announced a slew of new consumer smartphones based on Android, including a cheaper model named Citrus, which will also be sold at Verizon Wireless in the fourth quarter.
Powered by Android 2.1, Motorola CITRUS is an affordable, entry-level, customizable smartphone.
Key features and specifications:
- Curved design
- Easy-to-use, on-screen QWERTY keyboard (available in landscape and portrait modes) for quick messaging
- Full HTML Web browser ? Preloaded with Bing Search and Bing Maps and delivers a PC-like Web browsing experience with quick access to Web apps and services such as Facebook; Google services such as Gmail, Google Talk and YouTube
- Equipped with BACKTRACK, a touch panel located on the back of the device that enables users to navigate and scroll through websites, home screens, e-mails, music and more without obstructing the display
- Full touch screen display delivers fluid flick, swipe and pinch-to-zoom navigation
- Seven home screen panels that can be tailored with an array of available shortcuts; applications; and pre-loaded widgets such as sticky notes, weather, messages and calendar
- Android Market
- CITRUS has a housing made from 25 percent post-consumer recycled plastic, is certified CarbonFree through an alliance with Carbonfund.org, and is PVC and BFR free.
Motorola CITRUS will be available at www.verizonwireless.com and in Verizon Wireless Communications Stores in Q4 2010.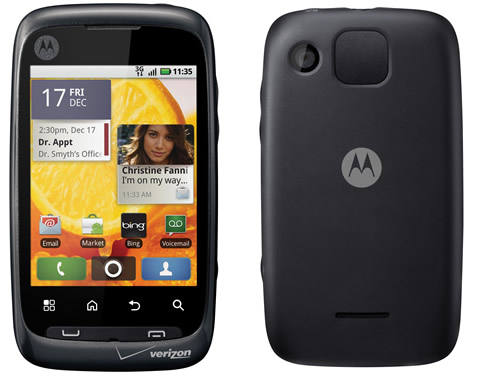 Motorola earlier Tuesday also announced three new lower-end Android phones that will go on sale at No. 2 U.S. operator AT&T Inc in time for holiday shoppers.
These incldue the the Motorola BRAVO, FLIPOUT and FLIPSIDE, models. More information about these models is available
here