Motorola Announces The CHARM Smartphone
Motorola today announced the upcoming availability of Motorola CHARM, a touch screen smartphone that packs a social networking punch with Android 2.1, MOTOBLUR enhancements and a BACKTRACK feature for easy screen navigation. The Motorola CHARM has a 2.8 inch touch screen and a full QWERTY keyboard. The BACKTRACK navigation pad, located on the back of the smartphone directly behind the home screen, is similar to a laptop touch panel and enables an unobstructed view of the Web, texts, e-mails and news feeds. Plus, with Android 2.1 and enhanced MOTOBLUR features, CHARM offers new customization and filtering options.
Motorola CHARM will be the first device in the U.S. to feature an enhanced version of MOTOBLUR built on Android 2.1, which syncs contacts, posts, messages, photos and much more in easy to manage streams - from sources such as Facebook, MySpace, Twitter, Gmail, work and personal e-mail.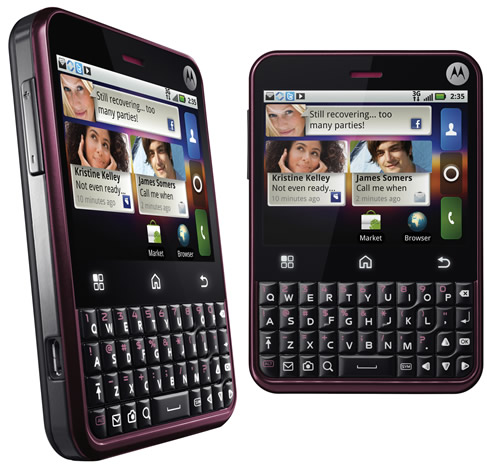 MOTOBLUR filters can be selected from a single social networking account, contacts, group or messaging account so that users can select only the information they want to stream live to the Happenings and Messages widgets. Users can move and resize pre-loaded home screen widgets to personalize up to seven home screen panels. Lastly, consumers can manage their phone's battery consumption by selecting different power modes to conserve battery.
Contacts in MOTOBLUR are automatically synced to the phone from personal and work e-mail and social network accounts. MOTOBLUR will continue to provide convenience and peace of mind, as lost devices can be located from a secure personal information portal and even remotely erased if necessary. In addition, one user name and password brings back contacts, messages and connectivity to previously configured networks and e-mail providers.
Last, but not least, Moto Phone Portal enables you to access and manage your phone's data from any browser through a USB or Wi-Fi connection. Additional features on Motorola CHARM include:
- Adobe Flash support
- Full suite of Google services including: Google Search, Google Maps, Gmail and access to thousands of apps on Android Market
- Pinch to zoom functionality and two-finger swipe to easily surf the Web and sort through photos
- Capture sharp photos with a 3MP camera and KODAK PERFECT TOUCH technology
- One-touch social media uploads to Facebook, MySpace, Picasa and PhotoBucket
- CrystalTalk PLUS for enhanced audio and call quality with a second microphone for increased voice quality while filtering out background noise
- Corporate email pushed immediately to the device for instant inbox updates
Motorola CHARM with MOTOBLUR is expected to be available exclusively to T-Mobile USA customers this summer.