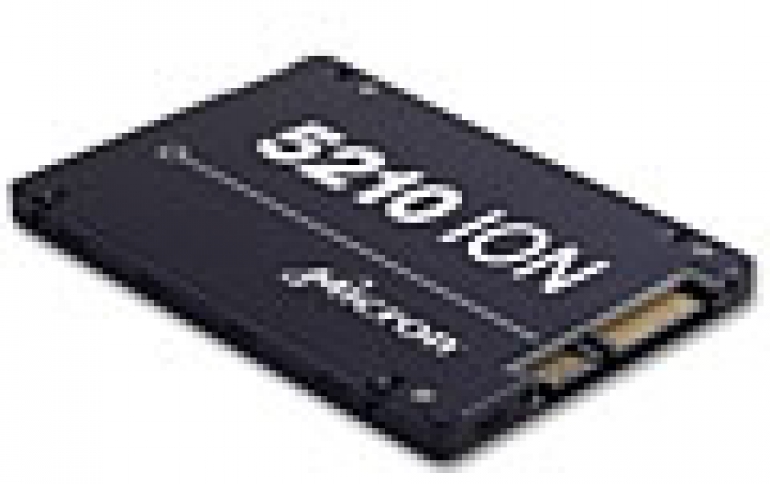 Micron and Intel Deliver First 1Tb - 4bits/cell QLC 3D NAND Die
Micron Technology, Inc. and Intel today announced production and shipment of the first 4bits/cell 3D NAND technology, which leverages a 64-layer structure to achieve 1 terabit (Tb) density per die.
The companies also announced development progress on the third-generation 96-tier 3D NAND structure, providing a 50 percent increase in layers.
Both NAND technology advancements-the 64-layer QLC and 96-layer TLC technologies utilize CMOS under the array (CuA) technology to reduce die sizes and deliver improved performance. The companies claim that by leveraging four planes vs the competitors' two planes, the new Intel and Micron NAND flash memory can write and read more cells in parallel, which delivers faster throughput and higher bandwidth at the system level.
The new 64-layer 4bits/cell NAND technology enables denser storage in a smaller space, bringing significant cost savings for read-intensive cloud workloads. It is also well-suited for consumer and client computing applications, providing cost-optimized storage solutions.
QLC NAND packs 33% more data into every cell compared to its triple-level cell (TLC) equivalent. QLC's additional storage density - coupled with a more approachable price point - can have an immense effect on your read-mostly workloads (TLC is best for mixed use).
Micron has already commenced shipments of the first SSD built on quad-level cell (QLC) NAND technology. Unveiled at Micron's 2018 Analyst and Investor Event, the Micron 5210 ION SSD provides 33 percent more bit density than triple-level cell (TLC) NAND, addressing segments previously serviced with hard disk drives (HDDs).
Available in a 2.5-inch form factor, compared to the traditional 3.5-inch HDD, the Micron 5210 ION SSD reduces server sprawl by packing more performance into fewer racks, which allows data centers to save on expensive power and cooling costs.
The Micron 5210 ION SSD is leveraging the architecture of the 5200 series SATA SSD to deliver the enterprise feature set of Micron's SATA SSDs. Micron's Flex Capacity feature allows for custom-configuration of the drive's endurance and write performance for workloads that have a higher mix of writes but are still mostly read-intensive.
The new SSD is now shipping, with broad market availability expected in the fall of 2018. It will be available in a 2.5-inch (7mm) form factor in capacities ranging from 1.92TB to 7.68TB.