MAYA44 USB External Sound Card
4. Drivers/Installation - Page 2
For our tests, we used VirtualDJ version v4.2R1. The software has detected the Maya44 USB card and after selecting it, all properties are set automatically.
However, for better handling, you can select ASIO driver mode and after pressing the "ASIO config..." button, you access the card's ASIO panel. There are two major tabs, where you can select the sample rate 44/48KHz and resolution (16bit always):
In the ASIO tab, again you can select the ASIO resolution and system performance. With a fast computer, and after selecting "Highspeed" mode, the output latency reaches 4ms. Of course, we could like to have zero latency but 4ms is still very low:
In case your PC is not very fast, you can select other modes: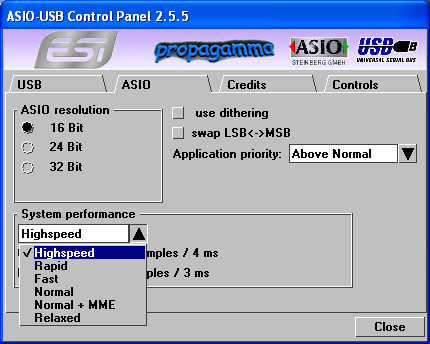 With the "relaxed" (worst) option selected, output latency reaches 123ms, not useful to any kind of user:
The Credits tab.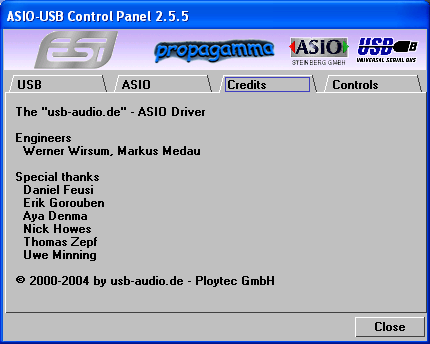 Lastly, the Control tab, controls the output/input levels.
1. Monitor Level Control Section
This section can be used to control the input level. You can monitor the signals through the input channel 1,2 and input channel 3,4 individually and/or simultaneously. It will not affect the actual input level from the source. Even if these faders are muted, you can still record the signals from the source, but you are not able to listen to (= monitor) the input source through the analog output.
2. Input Level Control Section
This section controls the real input level through the input ports. You can control all 4 inputs using the one set of stereo faders.
3. Output Level Control Section
These are the master output level faders. You can control all the outputs using the single set of the stereo master faders, except the digital optical output. You can control the monitoring level of the input source through the input ports and/or the playing out level of the wave file through the analog output ports.
The headphone output signal is the mixed signal from analog out 1, 2 and analog out 3, 4. Also note that the analog headphone output and the digital optical output share the same connector, i.e. they cannot be used simultaneously. The Gang mode links the left and right faders of each channel together for easier stereo operation. Deselect Gang if you need to control the left and right levels independently.