Magazine Publishes Next-gen Xbox 720 Details
The editor in chief of Xbox World leaked some details of Microsoft's next-geneation console, the Xbox 720, in honor of the magazine's final issue. According to Dan Dawkins via
CVG
, the 720 will boast advanced augmented reality capabilities, directional sound and a four-player finger-tracking Kinect (2.0). It will also feature a Blu-ray drive - a feature that has been rumored to come since introduction of the first Xbox console - directional audio, a TV output and input, an 'innovative controller' and even AR glasses.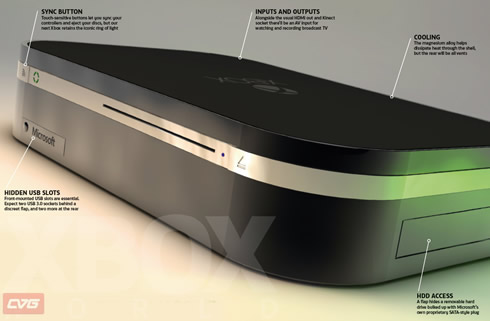 The current version of the Xbox 720 Durango developer kit uses a quad-core processor along with 8GB of RAM.
Editor in chief Dan Dawkins told CVG: "Xbox World has been at the cutting edge of Durango coverage for over 12 months. Unless something really dramatic changes, everything we reveal in our penultimate issue will be revealed long before E3 in June."