LiteOn Announces 6x Blu-ray Combo, New 22x DVD Burners
Lite-On today officially introduced its 6X internal Blu-ray Disc Combo drive, iHES206. The new Blu-ray Disc reader / DVD-writer provides an all-in-one solution to playback high-definition content, while maintaining the capability of archiving data onto CD and DVD.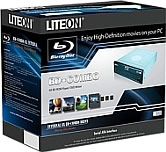 The company also today annoucned the three new 22X SmartErase DVD drives, the iHAP122, iHAS122 and the iHAS222.
The Lite-On iHES206 with Serial ATA interface allows users to play high-definition content such as Blu-ray movies, while it provides all the advantages of a DVD Writer.
The drive can read BD-R/RE/ROM discs at 6X (Double Layer at 4X). It can write DVD±R at 16X, DVD±R DL and DVD+RW at 8X, DVD-RW at 6X and DVD-RAM at 12X.
The iHES206 is equipped with LightScribe disc labeling technology that allows users to burn custom made labels with any type of artwork right onto the surface of the LightScribe-supported CD or DVD.
Availability of the iHES206 is scheduled from November 2008 and the estimated reta
22X DVD-RW portfolio
In addition to Lite-Ons' 22X SmartErase drives, three new DVD-RW drives are launched. These drives are only available in bulk version, come with PATA or SATA connections and LightScribe Direct Disc Labeling system.
All drives feature 22X DVD writing speeds.
iHAP122: PATA connection
iHAS122: SATA connection
iHAS222: SATA connection and LightScribe
The drives will be available in Europe this month.