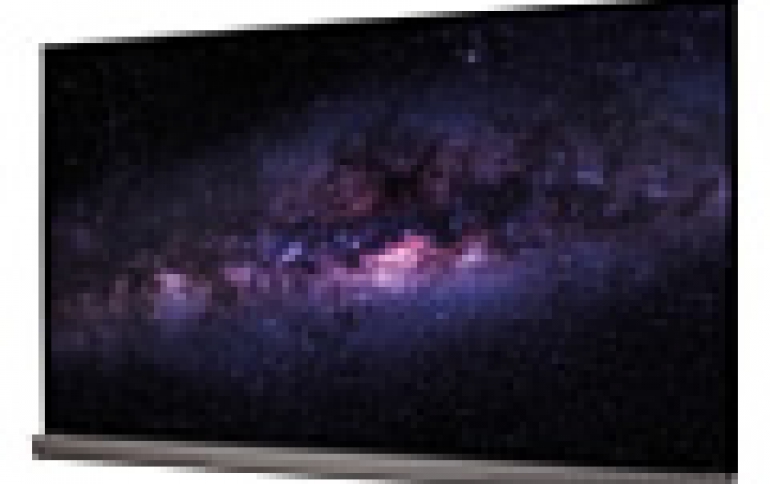 LG'S Flagship SIGNATURE OLED TV Now Available In The U.S.
On the heels of LG Electronics' first Super Bowl commercial – featuring the brand new LG SIGNATURE OLED TV – LG today announced pricing for its 2016 flagship OLED TV model. LG will offer a consumer preview of its flagship SIGNATURE OLED TV OLED TV (model OLED65G6P) through a display showcase at select retail stores throughout the U.S., and make it available for pre-sale both in store and online prior to its launch.
The 65-inch class (64.5 inches measured diagonally) OLED65G6P is now available for pre-order at $7,999.99 with initial shipments planned for late next month. Retail partners for the exclusive consumer preview and pre-sale include selected locations for Abt, Best Buy, Bjorns, Brandsmart, Fry's, Nebraska Furniture Mart, P.C. Richard & Son, Value Electronics and Video & Audio Center.
The TV promises to deliver exceptional picture quality with perfect blacks and incredible color, even from wide viewing angles. It features a sophisticated OLED panel with a very thin depth (measuring about one-tenth of an inch), a translucent glass back and a forward-facing sound bar speaker system.
LG SIGNATURE OLED TVs also feature 4K Ultra HD resolution and high dynamic range (HDR) capability. Certified as "ULTRA HD PREMIUM" by the UHD Alliance, the series supports the HDR formats established by broadcasters, film studios and consumer electronics manufacturers, including HDR10 and DolbyVision technology. Also included is LG's webOS 3.0 Smart TV platform, which incorporates new features that make finding and switching between LG's content options – including broadcast TV, streaming services and external devices – simple and fast.
LG's full 2016 OLED TV lineup features four series with eight total models, including the LG SIGNATURE TV (series OLEDG6). LG plans to announce pricing and availability for the following models this spring: 55- and 65-inch (54.6- and 64.5-inches measured diagonally) LG OLEDE6P, 55- and 65-inch (54.6- and 64.5-inches measured diagonally) LG OLEDB6P and 55- and 65-inch (54.6- and 64.5-inches measured diagonally) LG OLEDC6P.
LG's 2015 OLED TV lineup remains on sale in the U.S. Models are available in multiple screen sizes, curved and flat configurations. Prices are starting at $2,000 while supplies last.