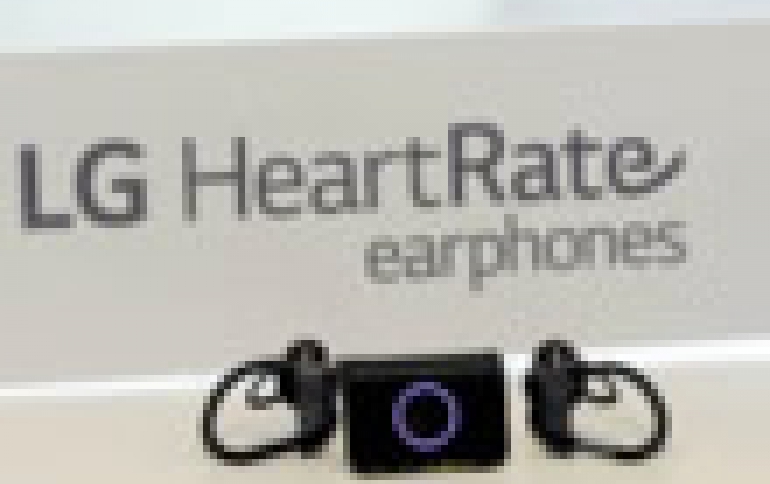 LG Lifeband Touch And Heart Rate Earphones Coming Next Week
LG Electronics will introduce its first fitness wearable devices -- the LG Lifeband Touch and Heart Rate Earphones -- to consumers starting this month. LG Lifeband Touch and Heart Rate Earphones offer practical features and data collection and analysis. Both devices can be wirelessly connected to popular smartphones.
LG Lifeband Touch features a full-touch OLED display that provides real-time access to fitness data so wearers can track their progress and adjust their workout plans accordingly. A motion-sensing algorithm automatically turns on the display when wearers rotate their wrists. LG Lifeband Touch features two sensors - a triple-axis accelerometer and an altimeter - that work together to providedata in real time. What's more, LG Lifeband Touch enables users to check incoming calls and messages and control their music playlists on their smartphones.

Available in three different sizes, the LG Lifeband Touch is compatible with both Android and iOS operating systems and is designed to work with the LG Fitness app as well as other fitness apps such as MyFitnessPal, Runkeeper and MapMyFitness. Its 90mAh battery is good for five days of use between charges.

LG's Heart Rate Earphones are designed to provide heart rate data by measuring blood flow signals in the ear via PerformTek sensor technology while also delivering high-quality sound. LG calaims that the unique physiology of the ear offers wearers more accurate health and fitness metrics than with other devices, especially when engaged in physical activity. LG Heart Rate Earphones can be used alone or with LG Lifeband Touch. A separate clip-on medallion contains Bluetooth connectivity which sends data to the Lifeband Touch or a compatible smartphone. When using the LG Fitness App, users can also receive audible status updates informing them of their heart rate and VO2 max(maximal oxygen consumption) levels in real time.
Following its launch in the United States on May 18, LG Lifeband Touch will be rolled out in key markets in Asia and Europe in the days and weeks ahead.
Lifeband Touch Key Specifications:
Display: 0.9-inch OLED (128 x 32)
Battery: 90mAh
Connectivity: Bluetooth 4.0
Band Length: 196mm (XL) / 181mm (L) / 166mm (M)
Weight: 53.1g(XL) / 50.1g(L) / 49.9g(M)
Heart Rate Earphones Key Specifications:
Battery: 200mAh
Connectivity: Bluetooth 3.0
Size: 46 x 33 x 17mm
Weight: 26.7g (Earphones) / 18g (Medallion)
Others: Hands Free Call, Voice Guide
New Windows Phone?
Besides its efforts to enter the market of wearable devices, it seems that LG is breaking back into the Windows Phone game. Gadget leaker @evleaks recently tweeted an image of a purported Windows Phone 8.1 device from LG, dubbed the 'Uni8,' without providing any further information'.
The device would be LG's first Windows Phone device since 2010 when it rolled out devices like the LG Quantum. In April 2012, LG said it had no plans to release further Windows Phones.
Microsoft announced LG as a new Windows Phone hardware partner in February.
LG will hold a May 27 press event where it is expected to introduce the G3 smartphone and the Android Wear-based G Watch.