3. Installation, Power up
Before using your newly bought LCD monitor you will have to properly mount the included stand. There are two hooks that should be positioned inside the stand slots and then you need to turn the bottom stand to the right in order to secure it.
The monitor' s stand allows the screen to be tilted from -5o~20o degrees, swivel at 350 degrees or increase its height by 100mm.
We looked over the manual in order to find any information about the number of broken/stuck pixels covered by the warranty - with no luck.
In the included CD you can find a user's guide and several sRGB profiles ready to use. We used the Picture | CSM to sRGB setting.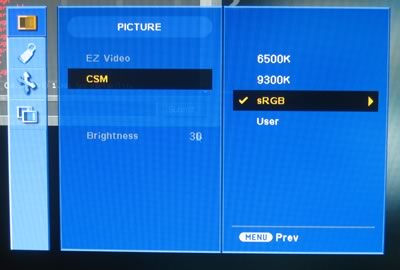 The brightness of the default settings was very high so you should probably reduce it down to 60-70 for more comfortable viewing. In order to watch HD video without vertical stretch of the image, set Screen | ARC to 1:1 instead of Full.
Passing to the performance... the LG L246WH-BN really impressed us both with its brightness and the vibrant colors. The viewing angles were very good. Using Everest Ultimate Edition we did not find any broken/stuck pixel and in general the overall performance at the various tests were satisfactory. We did notice a small leakage at the bottom of the screen, but that's rather common. The transition points of green/red/white to black, unveiled the weaknesses of TN panels, since the graduate level is not perfect. But as you know, "...what you pay is what you get.."