22. BookType Setting
The drive supports the Booktype function, through the Nero Properties of the drive. By default, the booktype is set to Automatic ( DVD-ROM) but it can be switched to any type to fit the users demands, as we can see in the image below taken from the drives properties.
As follows, we also used two other softwares to check the booktype's settings with this drive.
Nero CD DVD Speed
The drive can adjust the booktype only for the DVD+R DL and DVD+R media. The DVD+RW format is set by default to DVD-ROM for better compatibility.
And as the software prompts here, the booktype is successfully changed.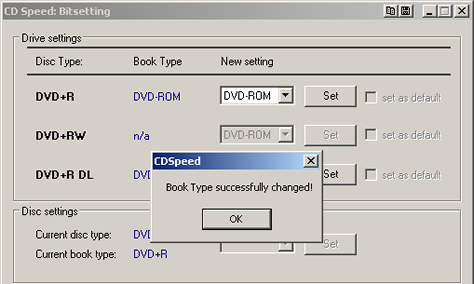 DVD Decrypter
A click away from the booktype change...
DVD Decrypter confirms the booktype support...