LG 6x Blu-Ray Burner Available in Korea
LG has officially today announced the release of the first Blu-Ray/HD DVD Super-multi DVD burner capable of writing at 6x on Blu-Ray media. The new GGW-H20L is the successor of the currently available GGW-H10N Super-multi Blue Blu-Ray /HD DVD combo drive. Basic specifications include a SATA interface, support for Lightscribe, 6x burning for BD-R media using the CAV (Constant Angular Velocity) writing strategy, 3x HD DVD-ROM reading (15GB and 30GB), 16x writing for DVD+/-R media and 40x for CD-R. Another strong advantage of the new drive is the support for 4x BD-R DL (50GB) burning, which means that you will be able to write approximately 46 GB of data in less than 50 minutes.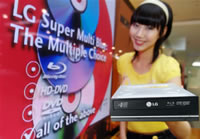 Currently, LG is the only ODD maker that offers drives compatible with both Blu-Ray and HD DVD formats. The new GGW-H20L drive will be available in the Korean market first and LG has not confirmed yet confirmed its availability overseas any time soon. It will sell for W490,000 (U.S. $526), almost the half price of the company's previous Super-multi model.
HLDS also plans to release a Blu-Ray/HD DVD ROM drive (GGC-H20L) with Lightscribe, keeping up with the demand for more affordable drives for entertainment PCs.