Intel To Transform Personal Computing With Ultrabooks
Speaking today at the Intel Developer Forum (IDF), Mooly Eden, vice president and general manager of the PC Client Group, said the personal computing experience is undergoing another transformation as the company leads the creation of Ultrabook, a new category of mobile devices. To define the Ultrabook category, Intel began with what people want most out of their personal computing devices, both from an emotional and a rational perspective. Ultrabooks are designed to give people the power to create and consume in a sleek, light, secure and elegant device that offers a responsive experience without compromising performance, all at mainstream price points.
The first Ultrabook devices, scheduled to be available during this year's holiday shopping season, are based on 2nd generation Intel Core processors. They will come in range of sleek form factors and will wake up almost instantly from even the deepest sleep using Intel Rapid Start technology.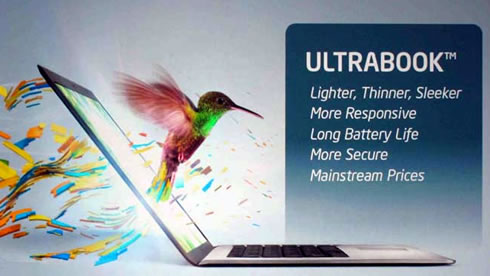 Eden shared the stage with Microsoft to show off the Windows 8 operating system working and running several applications on Intel-based Ultrabook devices. They highlighted the broad collaboration between the two companies and pointed to the future opportunities that Windows 8 will present across multiple compute devices such as tablets, hybrids and new form factors like Ultrabook.

Eden also turned the spotlight on Thunderbolt technology, a new, high-speed, dual-protocol I/O technology designed for performance, simplicity and flexibility. Thunderbolt enables high-speed storage, media capture devices and displays to all connect via a single, thin cable. He gave attendees an early look at a prototype with Thunderbolt technology running the Microsoft Windows 7 operating system.

Eden gave the IDF audience a preview of the processor that will power 2012 Ultrabook devices -- the 3rd generation Intel Core processor (codenamed "Ivy Bridge"). Expected to be available in systems in the first half of 2012, it will deliver greater performance and energy efficiency. Intel also redesigned the processor graphics to provide better video and gaming experiences. We have already provided information about the Ivy Bridge chips here.

Eden previewed six pre-production Ultrabook designs that are based on 3rd generation Intel Core processors and said he expects a large selection of devices for people worldwide in 2012.

Security features will be built into Ultrabook devices with processor-based Intel Identity Protection technology and Intel Anti-Theft. Building on the capabilities offered today, next-generation Ultrabooks, notebooks and desktop computers can benefit from the collaborative effort between Intel and McAfee to jointly develop a McAfee anti-theft service for Ultrabooks. Available in 2012, the McAfee solution will be the first to take advantage of Intel chip-level technologies and will provide device and data protection for consumers such as device lock, data wipe and location tracking.

Intel also demonstrated a new laptop power savings technology that limits screen refreshes when the Ultrabook screen is static, thereby saving energy. LG Display will be one of the first to bring a power-optimized panel self refresh display to market for Ultrabooks using its Shuriken Technology that features edge to edge design, smaller footprint and low power.

The Ultrabook vision will roll out in three phases. Eden said phase one is in process and will be realized this holiday season with the introduction of the first Ultrabook devices, while phase two will begin with the launch of Intel's 3rd generation Core processors in the first half of 2012. In 2013, Intel will introduce its next-generation, 22nm "Haswell" processor, signaling phase three of the transition to Ultrabook devices. Eden demonstrated "Haswell" running multiple applications at one time on stage at IDF. Devices powered by the future chip will ultimately transform the personal computing experience as a result of the new levels of power savings in the processor that will help provide more than 10 days of connected standby battery life.