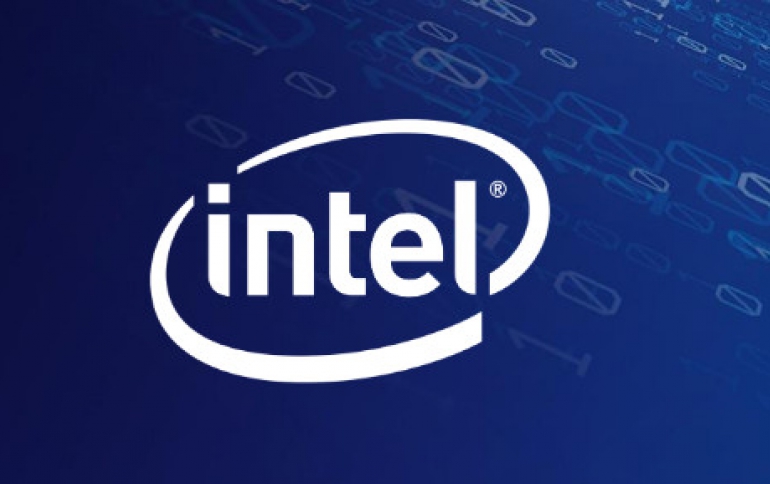 Intel Reports High Q1 Revenue Boosted by Data Center and PC Businesses
Intel's revenue for the first quarter was increased as a result of high data-centric and PC-centric revenues, while the company on Thursday forecast current-quarter revenue above analysts' estimates.
The company expects second-quarter revenue of about $18.5 billion, as lockdown orders globally fuel demand for its data center chips that power internet-based services.
"The second half demand picture is more uncertain," Chief Executive Officer Bob Swan said during a conference call with analysts. For Intel's PC chip business, the economic slowdown will outweigh demand from the work-from-home trend, the company said. The data center division will benefit from continued chip purchases by large cloud providers, it added.

"At some point we're going to see the recession start to impact demand for PCs," Chief Financial Officer George Davis told analysts on the conference call. Intel is already seeing the impact on automotive customers and the Internet-of-Things business, he added.
Davis said Intel expects lower gross margins in the second quarter because of the costs of readying its "Tiger Lake" 10-nanonmeter processors for the PC market. Intel plans to sell those chips starting in the third quarter. The costs drove Intel's profit forecast for the quarter below Wall Street expectations, he said.
The costs would not effect the margin for the full year, Davis said, because Intel would be able to sell the chips at high margins in the third quarter as the costs of readying them would already have been accounted for in the second quarter.
But Intel's ability to recoup the money it is investing in the Tiger Lake chips in the second quarter depends on its ability to sell them in the third-quarter and beyond. Intel executives said the chip is likely to be included in 50 different laptops that will go on sale during the 2020 holiday shopping season but they declined to forecast sales that far ahead.
"In the middle of this year, we'll debut our next-generation mobile processor, Tiger Lake. Using our second-generation 10-nanometer process, Tiger Lake will deliver breakthrough performance, and our customers have more than 50 fantastic Tiger Lake-based notebook designs lined up for the holiday season. Finally, in the latter part of 2020, we continue to expect initial production shipments of our first 10-nanometer-based Xeon Scalable product, Ice Lake."

George Davis – Chief Financial Officer

"We indicated that we plan to get back on a 2 to 2.5-year cadence, which means in 2021, we'll be ramping 10-nanometer even more while we're investing in 7-nanometer that we anticipate having in the fourth quarter of 2021."

Bob Swan CEO
Intel has started to to ramp 10-nanometer plus manufacturing process. Here is what Swan said responding to a quatesion to investors:
"..the client – the Tiger Lake product, we are extremely excited about. We – as I think I mentioned in our prepared remarks that we have 50 designs that we expect to ramp in the holiday season this year. Clock speed, battery life, AI incorporation into the core design, a platform offering that we think is a real differentiator for customers on – in thin and light format.

So this is going to be a great launch. We're very excited about it. And to George's earlier point, the demand signals we're seeing and our confidence in both the product and the yield is – has us at a point where we expect to accelerate the ramp and adoption a bit faster than we did coming into the year."
Intel's first-quarter revenue was $19.8 billion, up 23% year-over-year (YoY). However, it did not provide full-year guidance given significant economic uncertainty.
In the first quarter, Intel achieved 34 percent data-centric revenue growth and 14 percent PC-centric revenue growth YoY. First-quarter GAAP earnings-per-share (EPS) was $1.31, up 51 percent YoY; non-GAAP EPS of $1.45 was up 63 percent.
During the Q1, Intel said it maintained essential factory operations with greater than 90 percent on-time delivery while supporting employees, customers and communities in response to the COVID-19 pandemic.
First-quarter data-centric results were led by strength in the Data Center Group (DCG) with revenue up 43 percent YoY driven by broad strength including 53 percent YoY growth in cloud service provider revenue.
Intel's memory business (NSG) and Mobileye both set new revenue records in the first quarter.
The PC-centric business (CCG) exceeded expectations, up 14 percent YoY in the first quarter on improved CPU supply and demand strength as consumers and businesses are relying on PCs for working and learning at home.