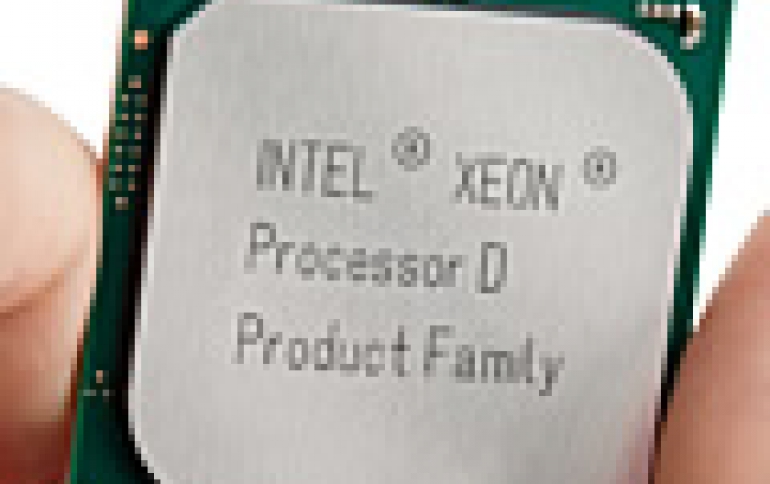 Intel Introduces New Xeon Processor D-1500 Product Family
Intel today announced the Intel Xeon processor D product family, the company's first Intel Xeon processor-based system-on-chip (SoC) designed for dense, small form factors, low-power networking, storage, and microserver infrastructure. Built on Intel's 14nm process technology, the Intel Xeon processor D product family combines the performance and intelligence of Intel Xeon processors with the size and power savings of an SoC.
The Intel Xeon processor D product family offers new options for addressing the need for low-power, high density infrastructure solutions, extending Intel technology from the edge of data centers to the network.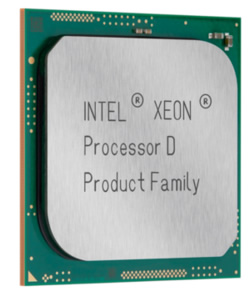 "The growth of connected devices and demand for more digital services has created new opportunities for information and communication technology," said Diane Bryant, senior vice president and general manager of the Data Center Group at Intel. "By bringing Intel Xeon processor performance to a low-power SoC, we're delivering the best of both worlds and enabling our customers to deliver exciting new services."
The Intel Xeon processor D product family is the first Intel Xeon SoC, and Intel's third generation of 64-bit SoC for microserver, storage, network and the Internet of Things (IoT).
The SoCs combine industry standard x86 cores with two ports of integrated 10GbE Intel Ethernet and integrated I/Os (PCIe, USB, SATA and other general purpose I/Os) on a single package. It operates at a thermal design point near 20 watts and supports up to 128GB of addressable memory.
According to Intel, the new products deliver up to 3.4x faster performance per node and up to 1.7x better performance per watt when compared to the Intel Atom processor C2750, part of Intel's second-generation 64-bit SoC product family.
The SoCs offer support for error-correcting code memory, combined with hardware-based Intel Virtualization Technology and Intel Advanced Encryption Standard-New Instructions (AES-NI).
The family is launching 4- and 8-core microserver optimized SoCs today, but Intel plans to offer a more comprehensive portfolio of network, storage and IoT SoCs in the second half of this year.
Intel is now offering the following packages:
Intel Xeon Processor D-1520 (4-core) - $199.00
Intel Xeon Processor D-1540 (8-core) - $581.00
Initial products based on the new SoCs are optimized for hosters and cloud service providers for a variety of workloads such as dedicated web hosting, memory caching, dynamic web serving and warm storage. Future storage and network optimized products will target usages such as entry SAN and NAS appliances, edge routers and wireless base stations, as well as industrial IoT devices.