Intel Expands Smartphone Portfolio
Intel President and CEO Paul Otellini today detailed a number of announcements and plans aimed at expanding the company's smartphone product portfolio and customer ecosystem, including new engagements with Orange, Lava International Ltd., ZTE, and Visa. "We are very pleased to add new, important customers and capabilities to our phone offerings today. We remain focused on delivering exciting new features and outstanding performance to smartphone customers around the world." said Otellini.
Otellini highlighted the company's plans to expand its smartphone SoC and communications product roadmaps for the performance and value smartphone market segments.
Building on engagements with Motorola Mobility Inc. and Lenovo, Intel detailed new device relationships with Orange, Lava International Ltd. and ZTE.
Yves Maitre, Orange senior vice president of Mobile Multimedia and Devices, joined Otellini to discuss a new Orange smartphone based on the Intel Atom processor Z2460 reference design.The design enables entertainment experiences and Orange services, including Orange TV, Daily Motion, Deezer, Orange Wednesdays and Orange Gestures. The Orange smartphone will be available in the United Kingdom and France later this summer.
Intel also announced plans to enter the high-growth market for smartphones in India through an alliance with Lava International Ltd., an Indian mobile handset companies.Vishal Sehgal, Lava co-founder and board director, announced the launch of XOLO Smartphone by Lava.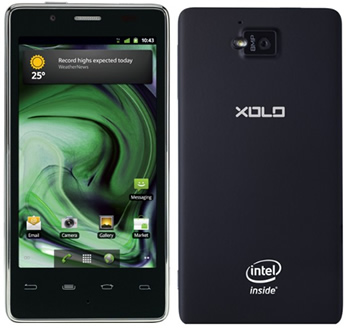 The XOLO X900 from Lava is based on Intel's smartphone reference design featuring the Intel Atom processor Z2460 with Intel Hyper-Threading Technology and supporting HSPA+ with the Intel XMM 6260 Platform. It is powered by a 1.6 Ghz processor and comes equipped with a 4.03-inch high-resolution LCD touch screen. The smartphone delivers a fast application, Web browsing and multitasking experience, and also features two cameras for advanced imaging and video capabilities, including burst mode that allows individuals to capture 10 pictures in under a second with 8-megapixel quality. The smartphone also supports HDMI, NFC and HD video playback.
The XOLO X900 Android smartphone is expected to be available from top retail outlets early in the second quarter of 2012 and will support major Indian cellular networks.
Similar to its previously announced partnership with Motorola Mobility, Intel also announced a multi-year mobile device collaboration across smartphones and tablets with global handset maker ZTE. Mr. He Shiyou, executive vice president and head of the Terminal Division of ZTE, discussed how his company's alliance with Intel will enable ZTE to move faster and create products for wireless operators. He also announced that ZTE's first Intel-powered mobile device is scheduled to debut in the second half of 2012.
Expanding Smartphone SoC and Communications Roadmaps
Intel announced plans for three new smartphone SoC products that expand the company's portfolio from the performance-to-value market segments.
Extending the performance and energy efficiency of the Intel Atom processor Z2460, formerly codenamed "Medfield," Intel announced that the platform will now support speeds up to 2GHz.
Intel also announced the Atom Z2580 processor that doubles the performance of the Atom processor Z2460, and features a multimode LTE/3G/2G solution. Intel will sample the Z2580 in the second half of the year with customer products scheduled in the first half of 2013.
Addressing the handset opportunity in emerging markets where consumers look for more value at lower prices, Intel disclosed plans for the Intel Atom processor Z2000.
The Z2000 is aimed squarely at the value smartphone market segment, which industry sources predict could reach up to 500 million units by 2015.The platform includes a 1.0 GHz Atom CPU offering great graphics and video performance, and the ability to access the Web and play Google Android games. It also supports the Intel XMM 6265 3G HSPA+ modem with Dual-SIM 2G/3G, offering flexibility on data/voice calling plans to save on costs. Intel will sample the Z2000 in mid-2012 with customer products scheduled by early 2013.
Building on these 32nm announcements, Otellini discussed how the Atom processor will outpace Moore's Law and announced that Intel will ship 22nm SoCs for carrier certification next year, and is already in development on 14nm SoC technology.
In 2011, Intel shipped in more than 400 million cellular platforms. Building on this market segment position, Intel announced the XMM 7160, an advanced multimode LTE/3G/2G platform with support for 100Mbps downlink and 50Mbps uplink, and support for HSPA+ 42Mbps. Intel will sample the product in the second quarter with customer designs scheduled to launch by the end of 2012.
Intel also announced that it is sampling the XMM 6360 platform, a new slim modem 3G HSPA+ solution supporting 42Mbps downlink and 11.5Mbps uplink for small form factors.
Otellini also welcomed John Partridge, President, Visa Inc., who announced a strategic multi-year alliance to develop mobile commerce solutions tailored to consumers in developed and developing countries.
The effort includes collaboration across a range of Visa mobile services and Intel Atom-based smartphones and tablets to deliver compelling and secure user services. As a first step, Partridge announced that Intel's smartphone reference design is now certified for Visa payWave mobile financial transactions. This means that products based on Intel's smartphone reference design will have time-to-market support of Visa mobile services.
The initial phase of the agreement between Visa and Intel includes:
- Visa has certified Inte's Smartphone Reference Device powered by the Intel Atom processor Z2460 for use with Visa payWave, Visa's mobile payment technology that enables consumers to make fast and secure payments at retail locations by waving their mobile phone in front of a payment terminal.
- The Intel Smartphone Reference Device will host the Visa payWave payment application and features NFC (Near Field Communication) technology, the short range communications standard that enables mobile phones to securely transmit payment information to a payment terminal.
- When used in combination with a Visa-compliant UICC, smartphones based on the Intel Smartphone Reference Device handset can be enabled to connect to Visa Inc.'s mobile provisioning service providing financial institutions and mobile operators the means to securely download Visa payment account information and the Visa payWave application "over the air" to a secure chip on an NFC-equipped smartphone. The connection to Visa's mobile provisioning service can be enabled by a Trusted Services Management platform, such as Giesecke & Devrient's (G&D) platform.
Building on its collaboration with Google, Intel continues to work closely with ISVs to help ensure the majority of Android apps run on Intel Atom processor-based devices. Otellini discussed how Intel has all the right tools and expertise to support the robust mobile application developer ecosystem.
Ivy Bridge processor delayed
Intel also confirmed that its next-generation microprocessors, code-named Ivy Bridge, will arrive around two months later than initially planned.
The company's executive vice-president Sean Maloney said that the delay was not caused by a lack of demand, but because of the new manufacturing process needed to make the smaller chips.
Originally scheduled for an April launch, mass shipments of Ivy Bridge will begin eight to ten weeks later than initially planned, according to Maloney. Intel said that the company was on target to start shipping Ivy Bridge "in the second quarter".
The Ivy Bridge processors will be built using 22nm architecture - a nearly 30% drop in size from the existing 32nm chips. According to Intel, the CPUs will consume less power and make more room for the integrated graphics chip, allowing Intel to boost the graphics processing capabilities by up to 60%. They will also support Microsoft DirectX 11.