Intel Doubles Capacity of the Optane SSD DC P4800X
Intel is rolling out the 750GB Optane SSD DC P4800X, a larger capacity version of the model launched earlier this year, bbased on the 3D XPoint memory.
Now Intel's flagship enterprise SSD family has a more useful capacity while offering the same top performance as the 375GB model that launched earlier this spring.
The 750GB add-in card model is launching this month in both half-height, half-length add-in card and a hot-swappable 2.5-inch U.2 form factor, and Intel says a 1.5TB models are "coming soon".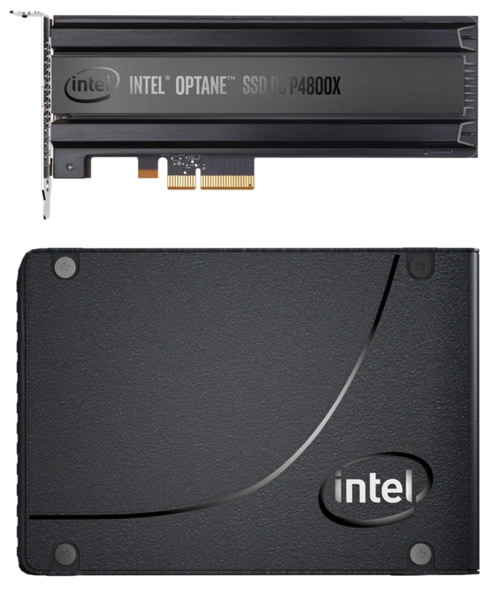 The performance specifications of the Optane SSDs are impressive. The latency for reads at low queue depths is far lower than NAND flash-based SSDs. With no wear leveling and garbage collection process going on under the hood, the Optane SSDs offer much better performance consistency than most flash-based SSDs, to the point that Intel specifies 99.999th percentile latency for the Optane SSD.
Intel Optane SSD DC P4800X Specifications
Capacity
375 GB
750 GB
Form Factor
PCIe HHHL or 2.5" 15mm U.2
Interface
PCIe 3.0 x4 NVMe
Controller
Intel SLL3D
Memory
128Gb 20nm Intel 3D XPoint
Typical Latency (R/W)
<10µs
Random Read (4 kB) IOPS (QD16)
550,000
Random Read 99.999% Latency (QD1)
60µs
Random Read 99.999% Latency (QD16)
150µs
Random Write (4 kB) IOPS (QD16)
500,000
Random Write 99.999% Latency (QD1)
100µs
Random Write 99.999% Latency (QD16)
200µs
Mixed 70/30 (4kB) Random IOPS (QD16)
500,000
Sequential Read (64kB)
2400 MB/s
Sequential Write (64kB)
2000 MB/s
Active Power
Read
8 W
10 W
Write
13 W
15 W
Idle Power
5 W
6 W
Endurance
30 DWPD
Warranty
5 years
MSRP
$1520
? 
In addition, capacity doesn't affect performance. The sequential transfer speeds of the P4800X are not record-setting, and the read speed rating is actually 100MBps lower than that of the consumer Optane SSD 900p.
Power consumption is the only area where the specifications differ between the 375GB and the 750GB model.
The P4800X's write endurance rating of 30 drive writes per day is far higher than most enterprise SSDs and beats any previous Intel SSD. When the P4800X exhausts the rated write endurance, it will switch to a "write protect" mode where writes are throttled to 30MB/s.
Once the P4800X has reached its write endurance rating, it is specified for unpowered data retention of 3 months, which is standard for enterprise SSD.