Intel D 840 Dual Core CPU
12. Overclocking
In order to overclock the CPU, we manually started to increase, step by step, the FSB, beginning from the default 200. When we set the FSB to 247 or 250, we were able to access Windows and work but not for long. As soon as we ran PCMark05 or SiSoft Sandra 2005, the system crashed and the blue screen appeared. So we decreased the FSB frequency to below 247.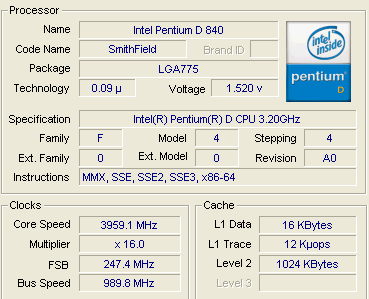 Finally, with the FSB frequency set to 240, everything seemed to work ok and all the benchmarks finished successfully without any errors. The actual speed at this point was 3.85GHz instead of the default 3.2GHz.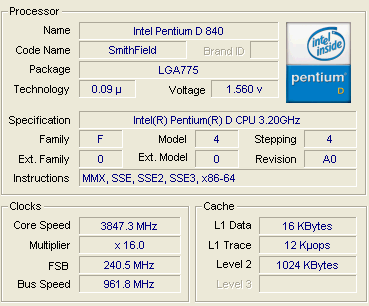 It is highly possible with a better cooling system, the CPU could run higher than 3.85GHz. While we ran our benchmarks, the temperature reached 77°C.
- The Tests
The increased FSB frequency raised the performance. The difference in performance was very noticeable compared to the default setting.
SiSoft Sandra 2005 Arithmetic Benchmark
3.2Ghz
3.85Ghz
SiSoft Sandra 2005 Multimedia Benchmark
3.2Ghz
3.85Ghz
Amazing difference in SiSoft Sandra's benchmark's.
In games, the overclocked CPU dramatically increased the framerates.