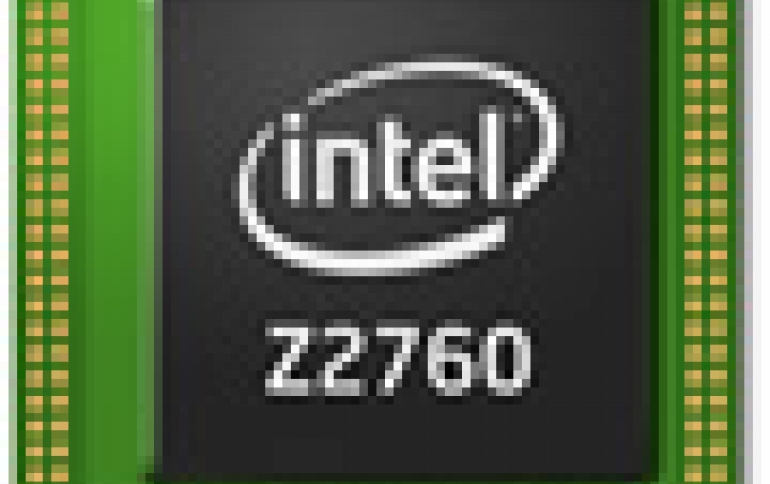 Intel Bets On New Clover Trail Chips For Windows 8, Tablets
Intel on Thursday unveiled the chip that it believes it could offer the energy efficiency of ARM's chips while delivering superior performance to tablets. Tablets with the first Clover Trail - the Atom Z2760 chip - will become available around the end of October when Microsoft ships Windows 8.
The Atom Z2760 is a dual-core processor that runs at 1.8GHz and has 1MB of L2 cache. Tablets with the Z2760 can include NFC and LTE capabilities, according to Intel. The dual-core, four-thread SoC provides long battery life with more than 3 weeks of connected standby and more than 10 hours of local HD video playback. It also supports the full Microsoft Office software suite, features an integrated Image Signal Processor with support for a primary camera (up to 8 MP) and secondary camera (up to 2.1 MP). The SoC also includes security features such as Secure Boot and firmware-based Intel Platform Trust Technology. The built-in Intel Graphics Media Accelerator runs up to 533 MHz supports one internal MIPI-DSI or LVDS display in additional to one external HDMI 1.3 display. The Intel Atom Processor Z2760 also includes support for LPDDR2, 800 MT/s data rates, up to 2 GB.
Intel Atom Z2760 - Clovertrail
Platform Codename
 
Clovertrail
OS/Platform Target
 
Windows 8 Tablets
Manufacturing Process
 
32nm SoC (P1269)
CPU Cores/Threads
 
2 / 4
CPU Clock
 
up to 1.8GHz
GPU
 
PowerVR SGX 545
GPU Clock
 
533MHz
Memory Interface
 
2 x 32-bit LPDDR2
The initial Clover Trail chips will be tuned to Windows 8, though the company wants to tune the Linux OS to take advantage of and graphics features on the chip. The company also offers Medfield for tablets, with those devices supporting Google's Android.
Intel said Windows 8 devices will have the advantage of supporting existing Windows applications and drivers, and users will be able to install existing Windows 7 programs and attach peripherals like printers and cameras. That could be an issue with Windows RT tablets (ARM-based), which may prove more popular with users who don't need that ability. On the other hand, Windows RT devices may have advantages in price and battery life.
Clover Trail is faster and more power efficient than the previous Oak Trail chip, which appeared in some Windows 7 tablets starting in 2011. Clover Trail is made using a 32nm manufacturing process.
Device makers have already shown off upcoming tablets with the Clover Trail chip. Lenovo announced the ThinkPad Tablet 2, while Hewlett-Packard announced the Envy X2. Asus and Samsung have also announced Windows 8 tablets with Clover Trail.
Clover Trail will be succeeded next year by a tablet chip made using a 22nm and by a 14nm tablet chip in 2014.
In related news, Today Intel issued a statement in response to news reports about comments made by Intel CEO Paul Otellini in a meeting with employees. Intel CEO was quoted as saying that Windows 8 OS still needs work and optimization.
"Intel has a long and successful heritage working with Microsoft on the release of Windows platforms, delivering devices that provide exciting experiences, stunning performance, and superior compatibility. Intel fully expects this to continue with Windows 8," Intel said in a statement.
"Intel, Microsoft and our partners have been working closely together on testing and validation to ensure delivery of a high-quality experience across the nearly 200 Intel-based designs that will start launching in October."
Intel CEO Paul Otellini is on record as saying "Windows 8 is one of the best things that ever happened to Intel," citing the importance of the touch interface coming to mainstream computing and the huge wave of exciting new Ultrabook, tablet and convertible device innovations coming to the market.