Intel Announces Next-gen Barlow Pass Persistent Memory, 144-layer QLC NAND for SSDs
Intel announced next-gen Barlow Pass persistent memory, to be paired with Cooper Lake and Ice Lake CPUs, along with its 144-layer QLC (Quad Level Cell) NAND for data center SSDs, the 665p QLC consumer SSD and the first Penta-Level Cell (PLC) SSDs.
At a gathering in Seoul, South Korea, Intel outlined a series of new technology milestones and highlighted its investment and commitment to advance memory and storage in the data-centric computing era. This includes providing Intel Optane technology and Intel 3D NAND solutions for cloud, artificial intelligence and network edge applications.
Among the milestones discussed at the event were Intel's plans to operate a new Optane technology development line at its facilities in Rio Rancho, New Mexico; the announcement of the second-generation of Intel Optane DC Persistent Memory, code-named "Barlow Pass," scheduled for release in 2020 with Intel's next-generation Intel Xeon Scalable processor; and Intel's industry-first demonstration of 144-layer QLC (Quad Level Cell) NAND for data center SSDs (solid-state drives), which are also expected in 2020.
Intel confirmed that its upcoming Cooper Lake and Ice Lake CPUs will have support for its 2nd-generation Optane DC Persistent Memory modules. Codenamed Barlow Pass, the Optane modules will be closely tied with the upcoming Xeon CPUs. And a yet unnamed, but rumored-to-be-called Crow Pass will be tied with its upcoming Sapphire Rapids Xeon CPUs.
Intel's Optane DC Persistent Memory are high-density, high-performance, non-volatile memory modules that go into DDR4 slots. Using proprietary methods, they allow servers to pack in terabytes of non-volatile storage closely coupled to the CPU. For software vendors who have optimized for Optane DC Persistent Memory along with Optane SSDs, both performance and cost savings can be very significant, Intel said.
Intel compared its first-gen P4800X Optane DC SSD with an Intel DC P4610 NAND SSD.
Intel's next-generation Optane will expand beyond DC Persistent Modules to build Optane DC SSDs. Code-named Alder Stream, Intel said the performance goes off the page. In addition, the next-gen Alder Stream seems to further lead in terms of latency and IOP performance.
Intel also said it's moving ahead with plans for five-bits-per-cell NAND, or Penta-Level Cell (PLC). As the name implies, five bits means five possible values for each cell, compared to the original Single Level Cell's single bit or Quad Level Cell's four bits per cell.
Intel said its NAND, built around floating gates, should have an edge over the far more common Charge Trap technique used by most 3D NAND makers. Intel said the floating-gate cells offer larger and more reliable read windows between each cell. That, in turn, means it's easier to increase density with floating-gate cells as QLC density increases, Intel officials said.
Intel said one advantage with its floating-gate approach is an increase in the read window between the cells which gives it more reliability over time. The company says floating-gate cells will also aid its PLC designs.
Intel officials said the company will introduce 96-layer QLC drives this year and 144-layer QLC drives next year, initially for data center drives.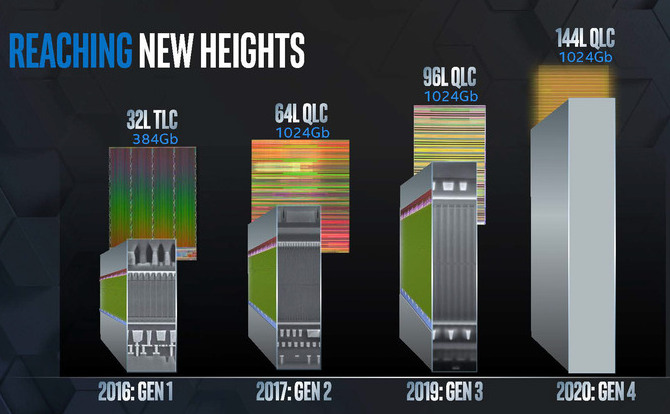 Intel's SSD 660p consumer QLC drive will soon be replaced by the new 665p that switches to 96-layer QLC from the current 64-layer QLC NAND. You could expect by the end of the year.
The 665p keeps the same Silicon Motion SM2263 4-channel controller but updates the NAND to Intel's second-generation 96-layer 3D QLC NAND. This newer QLC keeps the same 1024Gb per-die capacity while shrinking overall die size, so we don't expect any change to the range of drive capacities offered nor any major performance changes.
Intel showed off the 665p with a live demo pitting the 1TB 660p against a 1TB 665p prototype with pre-production firmware, each installed in identical ASUS notebooks. Intel used a beta version of CrystalDiskMark 7 to illustrate the 665p's performance: 40-50% improvement to sequential transfer speeds and about 30% faster random access speeds.
However, hese numbers are measurements only of the SLC cache performance. It's not clear how much the worst-case write speeds to QLC have changed, and that's where the 660p falls far behind TLC based SSDs.
In addition, the company plans to get those DIMM-based Optane modules into consumers' hands. Today, it's limited solely to data center applications, and it will soon arrive in workstations.
Intel officials said the hardware is there, and there is already some support for DIMM-based Optane modules in Windows 10. However, the company believes it'll take at least another year or two before applications and the OS can make full use of it.