Instagram Introduces Checkout
Facebook is introducing checkout on Instagram, a efature that will let you buy products without leaving the app.
When you tap to view a product from a brand's shopping post, you'll see a "Checkout on Instagram" button on the product page. Tap it to select from various options such as size or color, then you'll proceed to payment without leaving Instagram. You'll only need to enter your name, email, billing information and shipping address the first time you check out.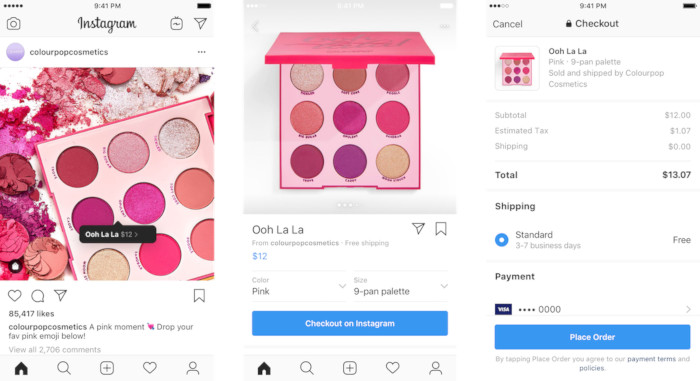 Once your first order is complete, your information will be saved for convenience the next time you shop. You'll also receive notifications about shipment and delivery right inside Instagram, so you can keep track of your purchase.
Shoppers will be able to pay with Visa, Mastercard, Discover and PayPal, Instagram said. As the feature expands, businesses will be able to integrate the purchasing directly or work with partners such as Shopify Inc.
Checkout on Instagram is currently in closed beta for businesses and available to people in the US.

The Facebook-owned platform has given brands the option to include "product tags" on their posts since 2017, which give users — i.e., potential customers — information on items that appear in posts and Stories, as well as the option to buy the products from the brand's website. Now instead of redirecting users off the platform, Instagram is letting users shop directly through the app.
For now, the feature is only enabled for 22 brands. It's a mix of really high-end stuff — Prada, Balmain, Oscar de la Renta — and fast-fashion companies like H&M and Zara.
Brand accounts are a vital source of revenue for Instagram. As of 2018, there were more than 25 million businesses on the app, 2 million of which used its ad functions.
Of course, Instagram already shows users products (ads) powered by sophisticated data collection algorithms that know literally everything about you, including what kinds of ads you're most likely to click.