1. Features, retail package
Nvidia's ION platform has become very popular product among users offering a good 3D and Video performance while it remains affordably priced. ION's graphics processors turn up the visuals on compact, low-power PCs with performance up to 10X faster than similar systems. When combined with a low-power CPU like Intel's Atom, ION graphics processors transform traditional under-performing PC designs into a premium experience.
- Key Benefits
Premium DirectX 10 graphics with advanced digital display connectivity
Full 1080p HD video with true-fidelity 7.1 audio
NVIDIA CUDA technology to accelerate the most demanding applications, vastly improving your PC's ability to work with visual content such as video encoding
Premium Windows experience with Windows Vista and Windows 7
Today we have in our labs the Inno3D ION-based solution. Being part of the 'iChiLL' series of products, it offers improved features and specifications compared to Nvidia's reference design for the platform.
The Inno3D ION is packaged into a large box despite the relatively compact size of the main device, indicating that this product comes fully loaded. We found the product sold online for about €140 (including VAT), which is somewhat more than what you would spend for other ION-based solutions. However, as we will see later on, the Inno3D ION comes fully-featured and it is addressed to a specific target group.
Many components are found into the box: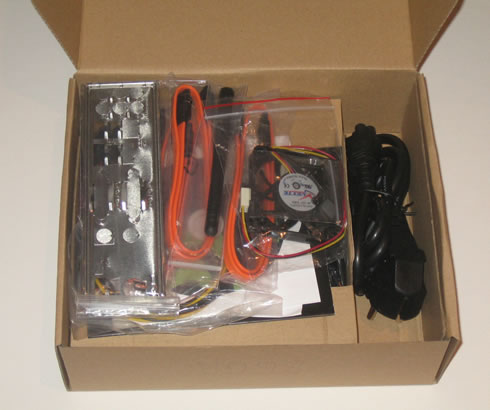 Besides the ION mainboard, the package includes SATA cables, a CD-ROM with drivers, a printer manual, a back plate, a Wifi antenna, a CPU cooler, a mini ac/dc adapter and a power cable.
- Specifications
CPU: Intel Atom (integrated)

Up to 533 MHz FSB
Intel HyperThreading technology

Chipset: MCP7A ION
Memory: DDR2 667/800

2 x 240 pin DDR2 DIMM slots
Up to 8GB ram

Bios
Expansion slot
Graphic: GeForce 9300
Audio: 6CH (HD)
LAN: Integrated 802.11n WiFi (Optional)
Internal Connectors: Mini PCI Express x1
Rear Panel I/O:

10 USB ports (6 on back panel, 4 via pin header)
1 Serial port header
1 MOLEX power connector (Can power up to 3 SATA devices)
1 HD Audio Port (Line-in, Line-out, Mic-in)
1 PS/2 keyboard port
2 Digital S/PDIF outputs (1 optical, 1 coaxial)
1 WiFi antenna connector (optional)
1 DC power jack (optional)

Hardware Monitor
O.S. Supported: Microsoft Windows 2000/XP/XP 64-bit/Vista
Form Factor: ITX