Imation Launches Broad Secure Data Storage Portfolio
Imation is launching a broad portfolio of products to protect information on external hard drives, flash drives, CDs, DVDs, Blu-ray discs. The company's new Defender Collection line of digital storage products is engineered to meet the U.S. and international encryption standards.
Imation's secure data storage portfolio offers solutions that range from enterprise to personal use, and provides strong authentication, encryption, management and digital identity technologies. The new portfolio includes flash drives, external hard drives, optical storage and software that prevent unauthorized access to confidential data and builds on Imation's existing offerings - including the DataGuard rf Tape Tracking System, DataGuard Transportation and Storage Cases, SecureScan for LTO tape cartridges and DataGuard GPS (available in Europe currently).
To enhance its portfolio, Imation has partnered with two security technology companies: MXI Security, a provider of managed portable security solutions, and ENCRYPTX Corporation, an expert in data security and policy control and management for removable storage.
The portfolio incorporates MXI Security's technologies for user authentication, digital identity and data encryption, including MXI's patent-pending Bluefly Processor technology, into the line of new Imation-branded Defender USB flash and external hard drives. The portfolio includes a secure, printable optical media line of CD, DVD and Blu-ray media utilizing the ENCRYPTX EncryptDisc AES 256-bit encryption and burning technology.
The new line of secure data storage products are FIPS (Federal Information Processing Standards) validated and compliant with the Trade Agreements Act (TAA), both key requirements for U.S. government users. The Defender Collection will add the following to Imation's existing offering of data storage solutions:
- Imation Defender Software Suite - This suite helps organizations manage and protect data storage devices using Malware AntiVirus Scanning along with central device management. The suite includes Access Standard, Access Enterprise and Access Identity.
- Defender Optical - This optical media is FIPS 140-2 Level 1 validated, self-encrypting, self-burning and feature one-factor authentication (password) for CD-R, DVD-R, DVD+R and Blu-ray disc (Blu-ray TBD).
- Defender F50 Pivot Flash Drive - Perfect for today's mobile business professional, the F50 is FIPS 140-2 Level 1 validated, and offers easy-to-use security software. This gives users control over data security, while protecting stored data from unauthorized access.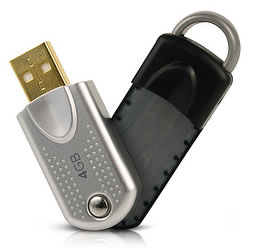 - Defender F100 and F150 Flash Drives - These secure, portable storage devices are FIPS 140-2 Level 3 validated, offer strong password authentication, and have a waterproof and dustproof enclosure.
- Defender F200 Biometric Flash Drive - The FIPS 140-2 Level 3 validated (pending) Defender F200 Biometric helps prevent PC-based attacks with its two factor authentication; strong password and biometric authentication capabilities. It features a biometric swipe sensor with hardware-based matching along with a tamper-evident metal enclosure.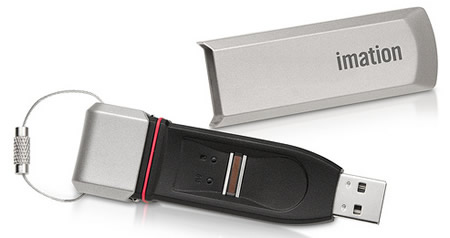 - Defender H100 & H200 External Hard Drives - The H100 offers strong password authentication. The H200 features strong password authentication and biometric fingerprint. Both are FIPS 140-2 Level 3 validated (pending).
The Defender F50, F100 and F150 Flash Drives are available immediately. The Defender Optical, F200 Biometric Flash Drive, H100 and H200 Biometric External Hard Drives will be available in the May/June timeframe.