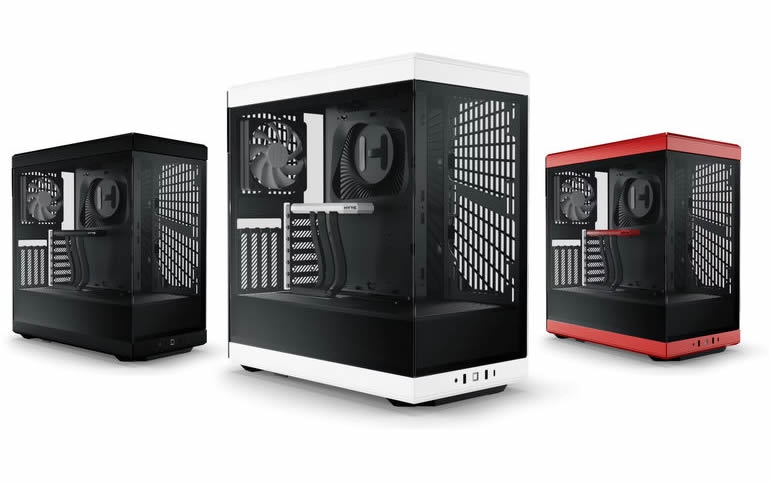 HYTE Launches New Y40 Mid Tower PC Case During CES 2023
HYTE, the PC components, peripherals, and lifestyle brand of iBUYPOWER, today, released its new mid-tower case, the Y40. Y40 is HYTE's second case to defy industry standards by removing the corner pillar and providing a completely unobstructed view of the inside of the case.
Continuing the design ID of its predecessor, the Y60, the HYTE Y40 will feature a two-piece panoramic tempered glass design for a clear view of the system, but in a more traditional PC case shape. The tempered glass side panel can easily be removed via a now tool-less tab located at the back of the panel while the front piece takes on a more stationary role. The tower form of Y40 will feel familiar to consumers yet, remains unique in both feature set and architecture.
"Y40 is an expression of harmonic performance, function, and aesthetic that blossoms as a multi-dimensional symphony," said Rob Teller, Lead Roadmap Architect of HYTE. "It defines a new tier of artistry in the chassis category."
Each Y40 comes equipped with an included PCIE 4.0 riser cable for exclusive vertical graphics card (GPU) mounting and expanded compatibility for up to a 422mm x 94mm, four-slot card. Behind the GPU, Y40 hosts space for up to six half height expansion cards.
With two pre-installed 120mm fans, one in the rear for exhaust and one mounted below the PSU shroud to supply fresh air to the GPU, HYTE Y40 takes on a similar airflow path as the Y60. To further assist with system thermals, the cavity under the PSU shroud features HYTE's new cable "shelf" which allows cable management to sit further back within the case and away from airflow zones that may impact GPU cooling.
Y40 will provide support for up to a 280mm all-in-one (AIO) liquid cooler mounted to the side and up to a 360mm AIO mounted on the top. The front IO of Y40 features a square power button, two USB Type-A ports, one USB Type-C port and a 3.5mm combo jack for easy accessibility and connectivity. Y40 will be available in three colorways, black with a black interior, white with a black interior and red with a black interior.
For customers looking for an out of the box, pre-built Y40 system, iBUYPOWER, the sister brand of HYTE, will make available several RDY and custom configured systems. The Creator RDY Y40BG201 will feature Y40, an Intel Core i9 13900KF, RTX 4090, Z790 motherboard, 2TB M.2 SSD and Windows 11 pre-installed for easy setup.
Y40 will be on display during CES 2023 at the iBUYPOWER and HYTE exhibit located in Titian 2306 at the Venetian.
Pricing & Availability
HYTE Y40 will be available for purchase immediately for a starting MSRP of $149.99 USD from HYTE.com, Amazon, Newegg and other select global retailers.
To learn more about Y40, please visit: https://hyte.co/Y40PR
iBUYPOWER systems featuring the HYTE Y40 will be available for purchase in January 2023. To learn more about Y40 systems, please visit: https://ibp.gg/y40-PR