HTC Unveils the More Affordable Exodus 1s Cryptophone
HTC announced at Berlin's Lightning conference the Exodus 1S, its second and more affordable cryptophone, priced at €219 (~$244).
In terms of specs, the Exodus 1s is a low-end device. It is powered by a Snapdragon 435 SoC running Android 8.1. The screen is a 5.7 inch HD+, coupled with 4GB of RAM and 64GB of storage. It also comes with a microUSB port, a 13MP main camera with PDAF and a 13MP front camera with LED flash light.
As a cryptophone, themobile device offers with Bitcoin Full Node support. Most app-based wallets (where you automatically store your newly-purchased crypto) is always connected to the internet and therefore susceptible to hacking and stealing. With EXODUS 1s, it is more than meets the eyes.
"We gave users the ability to own their own keys, and now we've gone one step further to allow users to run their own full Bitcoin node," HTC's Phil Chen said. "We are providing the tools for access to universal basic finance; the tools to have a metaphorical Swiss bank in your pocket."
HTC recommends only using the feature while the phone is connected to WiFi and plugged into its power adapter. The company also plans to roll out full node support to the original Exodus 1, as well.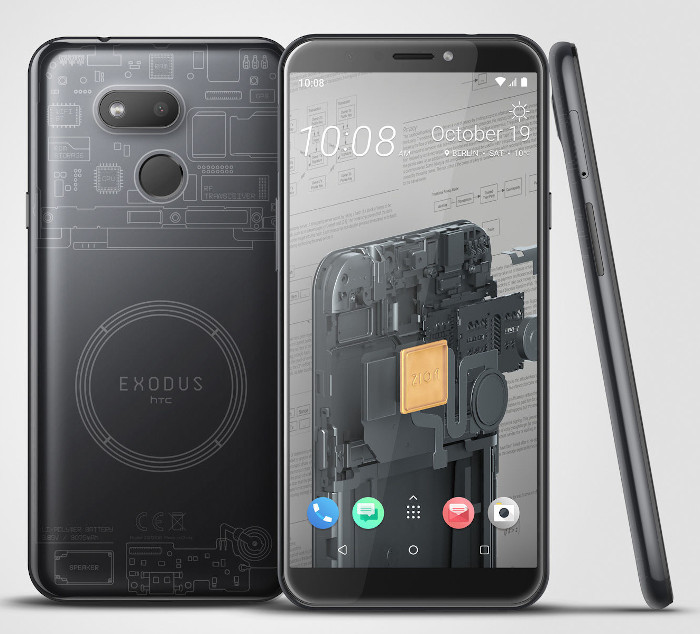 Under the hood, HTC uses the hardware and software to create Zion Vault - a wallet with an easy-to-use software integrated with on-board hardware security.
The keyboard is prone to attacks from malware and fake interfaces trying to phish your information. The trusted UI uses the TEE to guard your assets and sensitive data.
The Zion Vault uses the Trusted Execution Environment (TEE) to protect your private keys and sensitive data. When signing transactions, the TEE activates and temporarily isolates the operating system so that all your data is always safe.
The Zion Vault software allows the 1s to store, send and receive a variety of cryptocurrencies, including Bitcoin, Ether, Litecoin and Steller, as well as Etherum-based ERC-20 and ERC-721 tokens.
The 1s can also store the entire Bitcoin ledger. To take advantage of this aspect of the phone, you'll need a microSD card with at least 400GB of storage (sold separately).
In Europe, the Exodus 1s will cost €219 (approximately $244). The company also plans to sell the device in Taiwan, Saudi Arabia and the United Arab Emirates, with more countries to come at a later date.
Specifications
Display: 5.7" HD+ 18:9 display
Nominal: 3075mAh; Rated: 3000mAh
Camera

13MP main camera with PDAF
13MP front camera with LED flash light

Android Oreo 8.1
Qualcomm Snapdragon 435
4GB RAM
64GB Storage
Nano SIM
4G+3G Dual standby
SIM card manager. Setup mobile data connection without swapping SIM cards in existing SIM slots
2G/2.5G - GSM/GPRS/EDGE/
850/900/1800/1900 MHz
3G UMTS
850/900/1900/2100 (B1/B2/B5/B8); HSDPA 42, HSUPA 5.76
4G LTE
FDD: Bands 1, 3, 5, 7, 8, 20, 28
TDD: Bands 38, 40, 41
Support Cat.6 download up to 300 Mbps, upload up to 50Mbps