Hololens, New Lumia Smartphones, Band, Surface Pro 4 and Surface Book Shined At Microsoft's Windows 10 Devices Event
Microsoft today gave an impressive presentation of its new Windows 10 devices in an New York event. New products include the updated Microsoft Band, the Lumia 950 and 950XL smartphones, the out-of-this-world HoloLens virtual reality device, the new Surface Surface Pro 4 tablet and a 13.5-inch laptop called Surface Book. The new Surface, Lumia and Microsoft Band devices are taking advantage of powerful hardware to unlock new Windows 10 experiences, including fast and secured login with Windows Hello; new Cortana experiences; improved touch and pen experiences on Surface; and Continuum for phones, which enables the new Lumia 950 and 950 XL phones to work like PCs. Showcasing the innovation possible with Windows 10, Microsoft also impressed the audience with details on Microsoft HoloLens, the first fully untethered holographic computer.
Microsoft said that Windows 10 is currently running on 110 million devices around the world. With more than 1.25 billion visits to the Windows Store, Microsoft announced all-new universal apps for Windows 10, including Box, Facebook, Instagram, Candy Crush Soda Saga, Flipagram, Uber, and others.
Surface Book laptop
Responding to Apple's MacBook Pro, Microsoft decided to release the new Surface Book - a powerful laptop with very accurate and responsive pen and touch support. Microsoft claims that the Surface Book is 2 x times more porewful than the MacBook Pro.
Ultrathin, Surface Book combines the power of 6th Generation Intel Core i5 and Core i7 processors with up to 12 hours of battery life. The 13.5-inch optically bonded PixelSense Display delivers a high-contrast 267 dpi display (6 million pixels) with improved latency and parallax, making it beautiful to look at but natural to write on. The screen also detaches, so it can be used like a clipboard to sketch, take notes and benefit from Windows programs like Microsoft Edge. An optional discrete GPU by Nvidia allows Surface Book to harness the full power of hardware-accelerated graphics.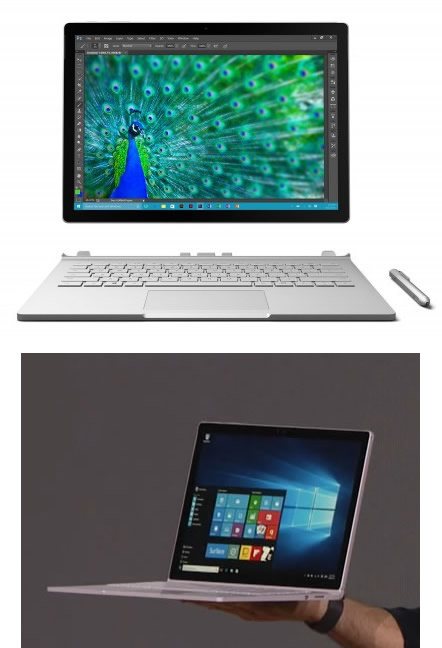 The Surface Book has a backlit keyboard with 1.6mm travel keyboard swithces plus a precision glass trackpad.
Surface Book starts at $1,4995 and will be available October 26,
Surface Pro 4
Microsoft also introduced Surface Pro 4, the thinnest, lightest and most powerful tablet that can replace your laptop. At only 8.4 mm thin, it features a 12.3-inch PixelSense Display (267 PPI - 5 million pixels) protected by 0.4 mm Gorilla Glass and powered by 6th Generation Intel Core m, Core i5, and Core i7 processors.
Starting at $8995, the 8.4mm-thin Surface Pro 4 is about 30 percent more powerful than Surface Pro 3 but also quieter, runs cooler, and is even more efficient with up to nine hours of battery life. It is also 50% faster than the MacBook Air, according to Microsoft.
Under the hood ther is also 16GB of RAM and up to 1TB of storage.
The new Surface Pro 4 Type Cover takes Surface Pro 4 from tablet to laptop in an instant and features a redesigned mechanical keyboard with optimal key spacing for fast typing. It has a 40% larger trackpad than the Surface PRo 3. Backwards compatible with Surface Pro 3, the new Surface Pro 4 Type Cover comes with an optional fingerprint reader, bringing enterprise-grade security of Windows Hello to existing customers.
The redesigned Surface Pen packs 1,024 levels of pressure sensitivity, letting you write, draw and mark documents with precision ink on one end and an eraser on the other.
Moicrosoft will also sell a docking station, which features four USB 3.0 ports, two 4k DisplayPorts, an ethernet port and the 'productive comnnection.'
Surface Book, Surface Pro 4 and new accessories are available for preorder in select markets Oct. 7, then for purchase in Canada and the United States on Oct. 26, with additional markets to follow. Prices start from $849.
Lumia phones
The company also reinforced its commitment to mobile with the introduction of Lumia 950 and Lumia 950 XL, the first Windows 10 Lumia phones and newest premium phones from Microsoft.
Windows 10 provides a consistent experience that enables a seamless transition from one device to another, whether PCs, tablets or the new phones. With Continuum capability for phones enhanced by the new Microsoft Display Dock accessory, connect the phone to a monitor and transform it for larger-screen entertainment, or add a keyboard and mouse to work like a PC with Windows 10 apps like Microsoft Office, while simultaneously taking calls or performing other tasks. Actually, with Microsoft Display Dock, Microsoft offers a complete PC-like experience for Windows 10 phones. You get a full control of the prone's features through a larger screen plus a full HDMI and Display ports that can output videos.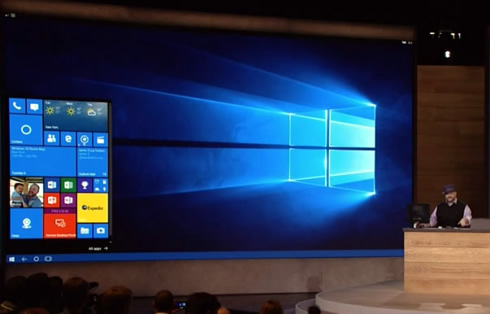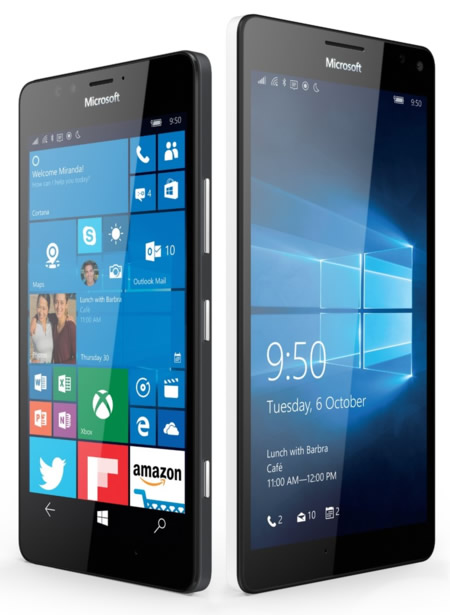 With the latest-generation PureView cameras with 20-megapixel sensors, triple LED natural flash and 4K video capture, the Lumia 950 and Lumia 950 XL enable faster focus and crisper images and videos even in challenging conditions. They feature a 5th gen optical image stabilizer, dedicated camera buttons and are able to shoot 4K video and upload it to the cloud.
The Lumia 950 and Lumia 950 XL feature 5.2-inch (568 PPI) and 5.7-inch (518 PPI) OLEDs, respectively. They are poered by hexacore and octacore processors, feature liquid cooling and the Glance screen technology to offer you basic information on their home screens.
USB-C ports offer fast transfers and let the phones charge to their 50% of battery capacity in just 15 minutes.
Lumia 950 and Lumia 950 XL will become available in select markets in November. Proces are $549 and $649, respectively.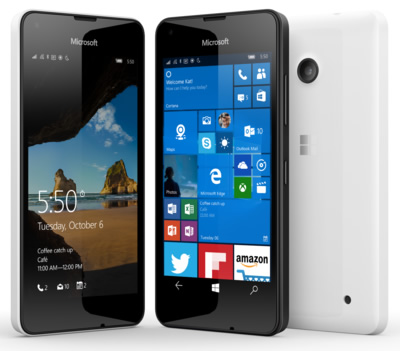 Lumia 550, Microsoft's most affordable 4G LTE smartphone running Windows 10, also joins the Lumia family. Lumia 550 combines fast Internet, the latest Qualcomm Snapdragon quad-core processor with LTE speeds, and the best of Microsoft services for $139. Lumia 550 will begin rolling out in select European markets in December
Microsoft Band 2
Microsoft also announced Microsoft Band 2, the latest fitness wearable designed to help you live healthier. The new Microsoft Band features a new curved display and Cortana enables you to reply to texts or set reminders with the touch of a button. Alongside a continuous optical heart rate monitor and onboard GPS, the smart band still tracks calories burned, deep exercise and sleep quality - and now records floors climbed - all while maintaining up to two-day battery life.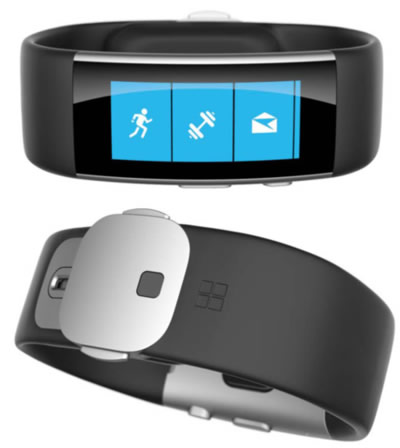 Microsoft Health is available as a universal Windows app, a dedicated app for iOS and Android devices, and via a Web Dashboard, all enabling people to set wellness goals and receive actionable insights.
Starting at $2495, Microsoft Band 2 is available for preorder in select markets Oct. 6, then for purchase in the United States on Oct. 30, with additional markets to follow. Its price is $249.
New Xbox games
Powered by Windows 10, the new Xbox One experience will launch around the world in November. This free update is a complete redesign built on the cornerstone of Windows 10.
Also launching in November, Xbox One Backward Compatibility9lets you play your Xbox 360 games on Xbox One for free with 100 games at launch and hundreds more in the months ahead. Backward-compatible Xbox 360 games will also be playable on Windows 10 through game streaming from Xbox One to Windows 10. Games like "Halo 5: Guardians, Rise of the Tomb Raider," "Forza Motorsport 6," and "Gears of War: Ultimate Edition" are included in the Xbox lineup.
What's more, Microsoft is offering gamers an extensive bundle lineup, starting at $349:
Xbox One "Halo 5: Guardians" Limited Edition Bundle
Xbox One 1TB "Fallout 4" Bundle that includes both the "Fallout 4" and a full-game download of "Fallout 3" for Xbox 360
Xbox One Elite Bundle
Xbox One 1TB Holiday Bundle.
Microsoft HoloLens arrives for developers
Microsoft HoloLens is the world's first fully untethered holographic computer, powered by Windows 10. Whether for education, design, healthcare or entertainment, HoloLens creates innovative experiences that are impossible on any other device - or any other platform. Starting today, Microsoft is inviting applications for the Microsoft HoloLens Development Edition and will start shipping in Q1 2016 for $3,000.
Microsoft also showed off its "mixed reality" games project in a HoloLens demonstration that uses holographic weapons. During th epresentation, spidery robot creatures virtually punched through physical walls and climbed over real furniture. This was an experimental game called Project XRay, showing spatially aware augmented reality that could react to a real-world environment.
As you see in the pictures below, monsters and robots were fighting on stage with the HoloLens wearer, which could strike back using virtual laser weapons. Clutching an unnamed controller in his hand, a wearable hologram gauntlet appeared on his forearm. And then he used a vortex weapon, and finally a shield. Spatial sound delivered the robots' creaks and screams.

Surface Book Specifications
Operating System

Windows 10 Pro

Exterior

Dimensions:

Laptop: 9.14 x 12.3 x 0.51-0.90 inches (232.1 x 312.3 x 13.0-22.8 mm)
Tablet only: 8.67 x 12.3 x 0.30 inches (220.2 x 312.3 x 7.7 mm)

Weight:

Laptop: Non-GPU: 3.34 lbs. (1515 g), GPU: 3.48 lbs. (1579 g)
Tablet only: 1.6 lbs. (726 g)

Mechanical features: Magnesium body, Dynamic Fulcrum Hinge, One-button Muscle Wire detach mechanism
Color: Silver
Physical clipboard buttons: power, volume

Storage

Solid-state drive (SSD) PCIe 3.0: 128 GB, 256 GB, 512 GB or 1 TB

Display

Screen: 13.5-inch PixelSense Display
Resolution: 3000x2000 (267 ppi)
Contrast ratio: 1800:1
Aspect ratio: 3:2
100 percent sRGB color, individually calibrated
Touch: 10-point multitouch

CPU

6th Generation Intel Core i5 or Core i7

Graphics

Intel HD graphics 520 and optional NVIDIA GeForce Graphics Processor with dedicated 1GB GDDR5 high-speed memory

Memory

8 GB or 16 GB RAM

Keyboard & Trackpad

Full-size, integrated backlit keyboard with 1.6mm key travel
Precision trackpad with glass laminated trackpad (7,350 sq. mm)
Five-finger contact recognition with full Windows 10 support
Subpixel resolution

Security

TPM 2.0 chip for enterprise security

Pen

Surface Pen

1,024 levels of pressure sensitivity
Magnetic storage

Network

802.11ac 2x2 MIMO Wi-Fi wireless networking; IEEE 802.11a/b/g/n compatible
Bluetooth 4.0 LE wireless technology

Battery

Up to 12 hours battery life for video playback

Cameras

Windows Hello5 face-authentication camera (front-facing)
8.0MP rear-facing auto-focus camera, with 1080p HD camera
5.0MP front-facing 1080p HD camera

Audio

Dual microphones, front- and rear-facing
Front-facing stereo speakers with Dolby audio

Ports

Two full-size USB 3.0
Full-size SD card reader (UHS-II performance)
Surface Connect for power and docking (base and clipboard)
Stereo headphones/microphone jack
Mini DisplayPort

Sensors

Ambient light sensor
Accelerometer
Gyroscope
Magnetometer

Power supply

36W power supply with USB charging port
65W power supply with USB charging port (discrete GPU SKU)

Warranty

One-year limited hardware warranty
| | |
| --- | --- |
| 128 GB 6th Generation Intel Core i5 with 8 GB of RAM | $1,499 ERP |
| 256 GB 6th Generation Intel Core i5 with 8 GB of RAM | $1,699 ERP |
| 256 GB 6th Generation Intel Core i5 with 8 GB of RAM and NVIDIA GeForce Graphics Processor | $1,899 ERP |
| 256 GB 6th Generation Intel Core i7 with 8 GB of RAM and NVIDIA GeForce Graphics Processor | $2,099 ERP |
| 512 GB 6th Generation Intel Core i7 with 16 GB of RAM and NVIDIA GeForce Graphics Processor | $2,699 ERP |
Microsoft Surface Pro 4 Specifications
Operating System

Windows 10 Pro

Exterior

Dimensions: 11.50 x 7.93 x 0.33 in (292.10 x 201.42 x 8.4 mm)
6th Generation Intel Core m weight: 1.69 lbs. (766 g)
6th Generation Intel Core i5 and Core i7 weight: 1.73 lbs. (786 g)
Mechanical features: Magnesium body, kickstand with full-friction multiposition hinge, magnetic attach for keyboard fold stability
Color: Silver
Physical buttons: volume, power

Display

Screen: 12.3-inch PixelSense Display
Resolution: 2736x1824 (267 ppi)
Contrast ratio: 1300:1
Aspect ratio: 3:2
100 percent sRGB color, individually calibrated
Touch: 10-point multitouch with GPU-based processing

Processor

6th Generation Intel Core m3, Core i5 or Core i7

Graphics

Intel HD graphics 515 (Intel Core m3)
Intel HD graphics 520 (Intel Core i5)
Intel Iris graphics 540 (Intel Core i7)

Memory

4 GB, 8 GB or 16 GB RAM

Storage

Solid-state drive (SSD) PCIe 3.0: 128 GB, 256 GB, 512 GB or 1 TB

Security

TPM 2.0 chip for enterprise security

Pen

Surface Pen
1,024 levels of pressure sensitivity
Magnetic storage

Network

802.11ac 2x2 MIMO Wi-Fi wireless networking; IEEE 802.11a/b/g/n compatible
Bluetooth 4.0 LE wireless technology

Battery

Up to 9 hours of battery life for video playback

Cameras

Windows Hello face-authentication camera (front-facing)
8.0 megapixel rear-facing auto-focus camera, with 1080p HD camera
5.0 megapixel front-facing 1080p HD camera

Audio

Stereo microphones
Stereo speakers with Dolby audio

Ports

Full-size USB 3.0
Mini DisplayPort
microSD card reader (UHS-I performance)
Stereo headphones/microphone jack
Type Cover
Surface Connect for power and docking

Sensors

Ambient light sensor
Accelerometer
Gyroscope
Magnetometer

Power supply

24W power supply (Intel Core m3)
36W power supply with USB charging port (Intel Core i5 and Core i7)

Warranty

One-year limited hardware warranty
| | |
| --- | --- |
| 128 GB 6th Generation Intel Core M3 with 4 GB of RAM | $899 ERP |
| 128 GB 6th Generation Intel Core i5 with 4 GB of RAM | $999 ERP |
| 256 GB 6th Generation Intel Core i5 with 8 GB of RAM | $1,299 ERP |
| 256 GB 6th Generation Intel Core i7 with 8 GB of RAM | $1,599 ERP |
| 256 GB 6th Generation Intel Core i7 with 16 GB of RAM | $1,799 ERP |
| 512 GB 6th Generation Intel Core i7 with 16 GB of RAM | $2,199 ERP |
Specs Surface Dock
Weight

1.21 lbs (550 g)

Compatibility

Surface Book, Surface Pro 4, Surface Pro 3

Dimensions

5.12 x 2.36 x 1.18 in (130 x 60 x 28.4 mm)

Ports

2 Mini DisplayPort
1 Gigabit Ethernet
4 USB 3.0
1 audio out
Surface Connect cable
External power supply

Warranty

One-year limited hardware warranty4
$199.99 USD
Specs Surface pen
Weight

0.046 lbs (21 g)

Compatibility

Surface Book, Surface Pro 4, Surface Pro 3, Surface 3

Dimensions (L/W/H)

5.67 x 0.37 x 0.40 in (144 x 9.5 x 10.2 mm)

Available colors

Charcoal, blue, red, silver, gold9

Connector type

Bluetooth 4.0

Buttons

Right click
Back button: Erase, click for OneNote, double-click for screen capture, and click-and-hold for Cortana

Battery

1 AAAA
Up to one-year battery life

In the box

Surface Pen with HB tip installed
Battery
Microsoft Surface Pen Tip Kit10 (tip holder, removal tool, four tips: 2H, H, HB, B)

Warranty

One-year limited hardware warranty4
$59.99 USD2
Specs Surface Pro 4 Type cover

Weight

0.68 lbs (310 g)

Compatibility

Surface Pro 4, Surface Pro 3

Dimensions

11.61 x 8.54 x 0.19 in (295 x 217 x 4.95 mm)

Colors

Black, red, blue, bright blue, teal2

Trackpad

Glass
Precision trackpad (PTP), smart controls
Five-point multifinger gesture support

Keys

Activation: Mechanical moving keys
Layout: QWERTY, full row of Function keys (F1–F12)
Dedicated buttons for Windows shortcuts, media controls, screen brightness
Right-click button

Interface

Magnetic

Sensors

Accelerometer

Warranty

One-year limited hardware warranty
$129.99 USD
Microsoft Band specs
Band Material: Thermal plastic elastomer silicone vulcanate (TPSiV)
Display Size: 32mm x 12.8mm
Display Type: AMOLED
Resolution: 320 x 128 pixels
Battery Life: 48 hours of normal use; advanced functionality like GPS use will impact battery performance
Average Charge Time: full charge in less than 1.5 hours
Battery Type: Li-Polymer
Operating Temperature Ranges: -10°C to 40°C (14°F to 104°F)
Maximum Operating Altitude: -300m to +4877m
Warranty: 1 year limited warranty; additional statutory rights may apply in your country
Sensors

Optical heart rate sensor
3-axis accelerometer/gyro
Gyrometer
GPS
Ambient light sensor
Skin temperature sensor
UV sensor
Capactive sensor
Galvanic skin response
Microphone
Barometer

Additional Technology: Haptic vibration motor
Connectivity: Bluetooth 4.0 (Low Energy)
Supported mobile devices: Works with Windows Phone 8.1 update, iPhone: 4S, 5, 5C, 5S, 6, 6 Plus, iOS 8.1.2, and many Android 4.3-5.0 phones, with Bluetooth
Water Resistant
Lumia 555 Specifications
Operating system

Windows 10

Exterior

Dimensions: 136.1 x 67.8 x 9.9 mm
Weight: 141.9 g
Casing: polycarbonate
Colors: black, white
Physical buttons: power, volume

Storage

8GB7 and up to 200GB expandable storage7

Display

Screen: 4.7-inch HD display
Resolution: 1280x720 (315 ppi)
Aspect ratio: 16:9

CPU

Qualcomm Snapdragon 210 processor featuring a quad-core CPU running up to 1.1 GHz

Network

Wi-Fi: (2.4 GHz) b/g/n
Bluetooth 4.1 LE
Nano SIM (4FF)

Battery

Removable 2100 mAh battery
Battery life:

| | |
| --- | --- |
| Standby | Up to 28 days |
| 2G talk | Up to 15.9 hours |
| 3G talk | Up to 13.9 hours |

Cameras and A/V

2MP front-facing camera
5MP rear-facing camera with AF f/2.4, 720p @ 30 fps video, and single LED flash

Ports

microSD slot, supports up to 200 GB of expandable storage
Charger AC-18

Sensors

Accelerometer
Proximity sensor
Ambient light sensor

Power supply

Charger AC-18

Location

A-GPS
A-GLONASS
BeiDou
Cellular
Wi-Fi network positioning

Warranty

One-year limited hardware warranty

Pricing 8 GB

$139.00 ERP
 

Lumia 950

Lumia 950 XL

Operating system

Windows 10

Exterior

Dimensions: 145 x 73.2 x 8.25 mm
Weight: 150 g
Casing: polycarbonate
Colors: black, white3
Physical buttons: power, volume, camera

Dimensions: 151.9 x 78.4 x 8.1 mm
Weight: 165 g
Casing: polycarbonate
Colors: black, white6
Physical buttons: power, volume, camera

Storage

32 GB and up to 200 GB of expandable storage
OneDrive storage

Display

Screen: 5.2-inch Quad HD AMOLED
Corning Gorilla Glass 3 display
Resolution: 2560x1440 (564 ppi)
Aspect ratio: 16:9
Touch: Multitouch

Screen: 5.7-inch Quad HD AMOLED Corning Gorilla Glass 4 display
Resolution: 2560x1440 (518 ppi)
Aspect ratio: 16:9
Touch: Multitouch

CPU

Qualcomm Snapdragon 808 processor featuring Hexa-core CPUs and 64-bit support

Qualcomm Snapdragon 810 processor featuring Octa-core CPUs and 64-bit capabilities

Network

Wi-Fi: MIMO, WLAN IEEE 802.11 a/b/g/n/ac
Bluetooth 4.1

Battery

Removable 3000mAh battery, USB-C fast charging, wireless charging

Battery life:

| | |
| --- | --- |
| Standby | 275 |
| Wi-Fi browsing | 9.5 |
| 2G talk | 23.0 |
| 3G talk | 18.0 |
| MP3 playback | 67.0 |
| Video playback 1080p | 10.0 |

Removable 3340mAh battery, USB-C fast charging, wireless charging

Battery life:

| | |
| --- | --- |
| Standby | 300 |
| Wi-Fi browsing | 25.0 |
| 2G talk | 19.0 |
| 3G talk | 75.0 |
| MP3 playback | 11.0 |
| Video playback 1080p | 11.0 |

 

Cameras

Rear-facing PureView camera with 20MP sensor, Zeiss optics, OIS, triple LED natural flash, and 4K video recording
5MP wide-angle 1080p front-facing camera

Ports

microSD slot, supports up to 200 GB of expandable storage
USB-C charging port for data, AV connectivity and charging
3.5mm stereo headset connector
Available in single-SIM and dual-SIM variants

 

Sensors

Accelerometer
Ambient light sensor
Barometer
Gyroscope
Magnetometer
Proximity sensor

Power supply

Microsoft USB-C Fast Charger (AC-100)

 

Location

A-GLONASS
A-GPS
Barometer
Cellular
Wi-Fi network positioning
Gyroscope

Warranty

One-year limited hardware warranty

Price

32 GB - $549 ERP

32 GB - $649 ERP