Hitachi Maxell Releases New 500GB iVDR
Hitachi Maxell today released the iV 500GB in Japan, a new portable hard disk drive (iVDR) capable of recording up to 400 hours of high-definition video. iVDR, or Information Versatile Disk for Removable usage, is a portable HDD cartridge standard. The standard is managed by the iVDR Hard Disk Drive Consortium, which consists largely of Japanese corporations. It provides the benefits of HDD technology, while going against the trend of smaller storage formats. Transfer speeds are up to 1.5 Gbit/s over SATA.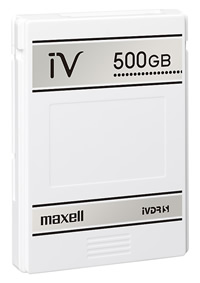 The iDVR media can be used either as a rewritable medium for recording TV programs or as a library for storing content.
Hitachi's latest "iV" 500GB capacity model can be used to store high-definition digital broadcasts, which are highly popular in Japan. Consumers in Japan are able to download a high-definition movie onto an HDD built into an "acTVila"-compatible TV, which is equipped with an iVDR slot. Using the "acTVila Video Download Sell" service they can transfer the program to an iVDR at high speed.
The new medium can also be used to store copyright-protected digital broadcast content. This content can be read and overwritten on other compatible devices. The "iV" employs the SAFIA (Security Architecture For Intelligent Attachment device) content protection technology. SAFIA is content protection technology for digital TVs and digital audio presented by the SAFIA license group. SAFIA has been adopted in removable disks for the first time ever. Also, it is approved as a "content protection method for removable recording media (iVDRs) that are mountable on a receiver" by Dpa (The Association for Promotion of Digital Broadcasting).
Last month, iVDR (Standard type) was also approved as international standard by the ISO/IEC and was released as the International Standard "ISO/IEC 29171". The standard specifies the dimensional, mechanical and physical characteristics of an information Versatile Disk for Removable usage (iVDR) cartridge to enable mechanical interchangeability between data processing systems.
Maxell's 500GB palm-sized model (110 mm long, 80 mm wide and 12.7 mm thick) is equipped with a content protection function and it can achieve a maximum data transfer rate of 875Mbps. It takes about 7 minutes to move a one-hour terrestrial digital high-definition program from a built-in HDD to an iVDR-S.
Hitachi, Ltd. has been releasing the "Wooo" series of TVs in Japan equipped with an iVDR slot. Hitachi Maxell, Ltd. and I-O Data Device, Inc. have launched their "iVDR Player" models while Hitachi Maxell, Ltd. and SANYO Electric Co., Ltd. have launched "iVDR Recorder" equipped with digital tuners.