2. Features - Page 1
20 Channels "All-In-View" Tracking
Position accuracy of 10 metres 2D RMS
Cold/Warm/Hot Start Time: 42/38/1 Seconds (Signal Strength > 30 dB-HZ)
Re-acquisition Time: 0.1 seconds
Support Standard NMEA-0183 at 38400 bps baud rate (Defined by customer 4800 up to 57600)
Support Power Saving Mode
Compatible with Bluetooth devices with Serial Port Profile (SPP)
Built-in digital compass with 12 LED indications
Superior Sensitivity for Urban Canyon and Foliage Environment
Ultra small, sleek and lightweight design easily fits in your hand
Li-polymer battery lasts for more than 8 hours of use in connection
For our testing purposes, Haicom sent us the retail package that included:
the HI-406BT-C GPS receiver itself
a carrying pouch
an AC power adaptor with USB female plug
a cigarette lighter adaptor with USB female plug
a mini1394 to USB cable
and finally a CD-ROM with corresponding software and user's Manual
The current price for the product is at around US$105.00, as found on the net.
The contents of the retail package are shown below: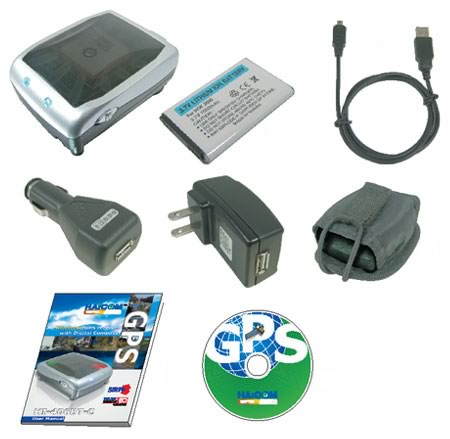 Looking at the device, we can see on the left and right hand sides are two slider switches that enable the digital compass/BT GPS device functions and two LEDs at the top. The external dimensions of the BT-338 are 64.8mm x 46.4mm x 24mm with a weight of <90gr: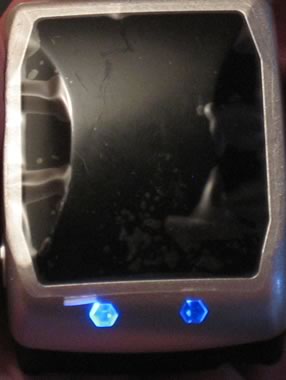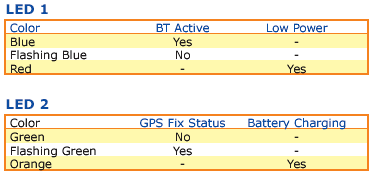 On the bottom side, we can find the charger interface (mini USB) and the external cable jack (MMCX compatible). The package, as we saw earlier, includes two chargers, one for AC/DC and one for car. Since the device is USB compatible, it can be powered from the PC USB port also!