3. Features - Page 2
By using a variety of optional connection cables, the HI-406BT-C can become all kinds of wired GPS receiver solutions (optional).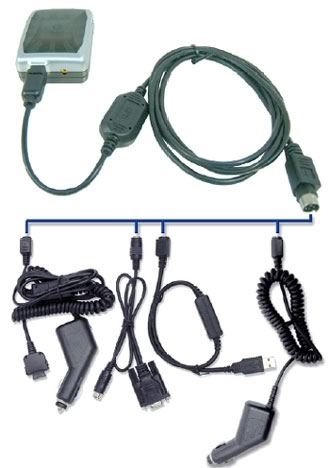 After removing the battery cover, we can see the device's S/N and other information:
The included battery is rated at 3.7V and 1000mAh. According to the specs, the HI-406BT-C can hold out for up to 8 hours with the standard battery. Since the battery is a standard Nokia BL5C compatible, the user could conceivably use a similar battery designed for Nokia phones as a replacement.
Comparing the device with the Globalsat BT-338, we can see that in size they are very similar, with the Haicom device being somewhat smaller but wider: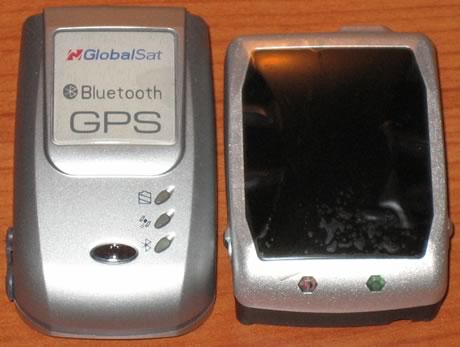 If you turn on the digital compass using the left slider, the device will power up and the 12 LEDs will show north/south direction: the red light indicating north and the green light indicating south. The digital compass or the Bluetooth GPS receiver can work independently or simultaneously. Even if the Bluetooth GPS receiver is switched off, the compass still works and the HI-406BT-C acts purely as a digital compass.
If the HI-406BT-C digital compass is functioning normally, the sensing accuracy may be affected in the following circumstances:
1. Indication of north/south can be distorted when the device is next to the ferrous materials, including buildings, bridges, railroads, etc.
2. It can also be influenced by ferro-magnetic materials, such as when standing next to a speaker.
The HI-406BT-C digital compass' functionality is designed for general-purpose and not for special purpose use, such as aviation, space, traffic devices or medical applications such as life support systems, or devices which can affect human life or injure someone if the device malfunctions. For special-purpose use, a high level device, specially designed for that purpose needs to be used.