Hackers Took Over Facebook's Official Social Media Accounts
Twitter on Friday said that the official Twitter accounts of social media giant Facebook and its Messenger platform were hacked.
"As soon as we were made aware of the issue, we locked the compromised accounts and are working closely with our partners at Facebook to restore them," Twitter said.
Seperately, Facebook also confirmed that some of its official social media accounts were hacked on Friday.
The @Facebook Twitter account on Friday sent out a tweet to its 13.4 million followers saying, "Hi, we are O u r M i n e. Well, even Facebook is hackable but at least their security better than Twitter."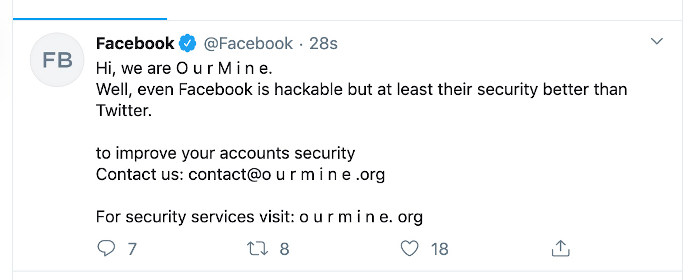 The Saudi OurMine hacking group was eveb able to post to Facebook's social media accounts on Instagram as well. OurMine has been linked to other Twitter hacks, most recently the official accounts for more than a dozen National Football League teams.
"Some of our corporate social accounts were briefly hacked but we have secured and restored access," Facebook spokesman Joe Osborne said.
The temporary account takeovers, which appear to have also impacted the official Messenger Twitter account, lasted for less than 30 minutes. Long enough to cause plenty of embarrassment for Facebook, already in the news this week for a WhatsApp one-click attack risk vulnerability.
The account of Twitter Inc Chief Executive Jack Dorsey was also hacked in August, allowing an unauthorized person to send public tweets including curse words to his 4 million followers before Twitter secured the account.
Positioning itself as a security consultancy, OurMine always claims the attacks "are made so as to draw attention to vulnerabilities in the security of these accounts."