GoPro Introduces The High-performing HERO4 Lineup
GoPro is launching the HERO4 Silver and Black, both able to shoot in 4K resolution, as well as an aggressively priced entry-level model, the HERO. HERO4 is available in two editions, HERO4 Black at MSRP $499 and HERO4 Silver at MSRP $399. GoPro's imaging technology combines with ease-of-use and new features such as 4K30, 2.7K50 and 1080p120 video capture (Black) and built-in touch display (Silver).
HERO4 Black delivers 2x the performance of its predecessor and now captures 4K video at 30 frames per second (fps), 2.7K video at 50fps and 1080p video at 120fps, virtually eliminating rolling shutter in most scenarios while allowing for time-bending slow motion effects. HERO4 Black also features a redesigned audio system that captures high fidelity sound with 2x the dynamic range of previous models. Additional enhancements include improved image quality, low light performance, highlight moment tagging and an improved user interface that allows for easier access to features and controls.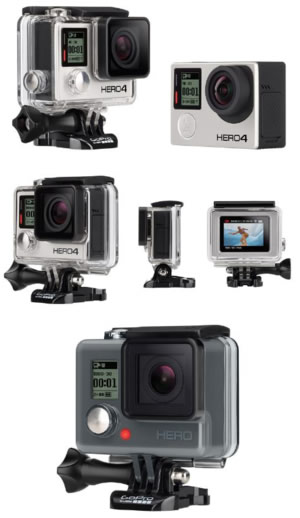 HERO4 Silver delivers the same image quality as HERO4 Black less some of the higher performance video capture modes including 4K30, 2.7K50 and 1080p120. HERO4 Silver includes a built-in touch display for those who value convenience and ease-of-use over the performance of the HERO4 Black.
The new HERO4 line will be available October 5 on GoPro.com and at select retailers worldwide.

The announcement of GoPro's latest models comes days after the Taiwanese manufacturer HTC began teasing a mystery product that is most likely its first mini action cam. Earlier rumors on the subject are now supported by a new video from the brand, which suggests a small, portable and discreet camcorder that can film underwater and withstand shocks. HTC is expected to unveil the new model on October 8.

Sony has been also also offering the Action Cam, the Full HD camcorder that is waterproof, shockproof and dustproof. Equipped with a Zeiss lens developed specifically for the purpose, Sony's model is one of the rare mini camcorders that is capable of competing with the GoPro.
HERO4 Black:
Ultra high definition 4K video at 30fps allows for video capture as well the ability to extract 8.3 megapixel video stills to use as photos
Faster high resolution frame rates of 2.7K at 50fps and 1080p at 120fps
12MP magazine cover-quality photos at burst speeds of 30 photos per second
Updated user-interface
50% faster Wi-Fi combined with Bluetooth
MSRP $499

HERO4 Silver:
Built-in touch display allows for easy camera control, shot framing and playback
Video capture at 2.7K30, 1080p60 and 720p120
12MP magazine cover-quality photos at burst speeds of 30 photos per second
50% faster Wi-Fi combined with Bluetooth
MSRP $399

HERO4 Black and Silver share also new features:
Protune, now for photo + video - Expanded Protune mode includes Color, Sharpness, ISO Limit, and Exposure controls for both photo and video capture.
New settings for after dark. Night Photo and Night Lapse allow you to capture images of ultra low-light scenes with customizable exposure settings of up to 30 seconds.
HiLight Tag enables you to mark key moments with the push of an on-camera button while recording. You can also HiLight Tag using the mobile GoPro App or the new Smart Remote accessory.
QuikCapture makes it easy to power on and record with the press of a single button. When enabled, a single press starts video capture, while a press and hold engages Time Lapse photo capture.

GoPro is debuting the entry-level HERO. Built directly into a rugged, waterproof housing, HERO captures 1080p video at 30fps and 720p video at 60fps. HERO has an MSRP of $129.
New mounts and accessories include:
Smart Remote - Control your GoPro from up to 600' (183m) away with the wearable and waterproof remote. Mark key moments as they happen with the Smart Remote's HiLight Tag button when paired with a HERO4 Black or HERO4 Silver.
The Handler – A compact floating handgrip.
New BacPac accessories – A new and improved Battery BacPac provides almost twice the battery power over the camera's internal battery alone. And a new LCD BacPac provides improved touch and swipe performance when used with HERO4 Black.
 
HERO4 Silver - €379.99
Image Quality
Field of View (FOV)

Ultra Wide, Medium, Narrow

Ultra Wide

Optics + Lens

Ultra-sharp image quality / Ultra-wide angle all-glass lens with reduced distortion

Ultra-sharp ƒ/2.8 6-element aspherical glass lens / Ultra-wide angle with reduced distortion

Low-Light Performance

Professional grade

Video Features
4K

30, 25, 24 fps Ultra Wide FOV

15, 12.5 fps Ultra Wide FOV

N/A

4K SuperView

24 fps Ultra Wide FOV

N/A

2.7K

50, 48, 30, 25, 24 fps Ultra Wide, Medium FOV

30, 25, 24 fps Ultra Wide, Medium FOV

N/A

2.7K SuperView

30, 25 fps Ultra Wide FOV

N/A

2.7K 4:3

30, 25 fps Ultra Wide FOV

N/A

1440p

80, 60, 50, 48, 30, 25, 24 fps Ultra Wide FOV

48, 30, 25, 24 fps Ultra Wide FOV

N/A

1080p

120, 90, 60, 50, 48, 30, 25, 24 fps Ultra Wide, Medium (excludes 120 and 90 fps), Narrow FOV

60, 50, 48, 30, 25, 24 fps Ultra Wide, Medium, Narrow FOV

30, 25 fps Ultra Wide FOV

1080p SuperView

80, 60, 50, 48, 30, 25, 24 fps Ultra Wide FOV

60, 50, 48, 30, 25, 24 fps Ultra Wide FOV

N/A

960p

120, 60, 50 fps Ultra Wide FOV

100, 60, 50 fps Ultra Wide FOV

N/A

720p

120, 60, 50, 30, 25 fps Ultra Wide, Medium, Narrow FOV

60, 50 fps Ultra Wide FOV

720p SuperView

120, 60, 50 fps Ultra Wide FOV

100, 60, 50 fps Ultra Wide FOV

60, 50 fps Ultra Wide FOV

WVGA

240 fps Ultra Wide FOV

N/A

Photo Features
Megapixels

12MP

5MP

Burst Rates (frames/sec)

0.5, 1, 2, 5, 10, 30, 60 seconds

0.5 second

Time Lapse Intervals

10/1, 5/1, 3/1

N/A

Continuous Photo Rates

30/1, 30/2, 30/3, 10/1, 10/2, 10/3, 5/1, 3/1

10/2

Advanced Features
Built-in Wireless

Wi-Fi + Bluetooth

No

Protune (Photo + Video)

Yes

No

SuperView

Yes

Yes

Auto Low Light

Yes

Yes

Night Photo + Night Lapse

Yes

No

HiLight Tag

Yes

No

QuikCapture / Auto One-Button

Yes, QuikCapture

Simultaneous Video + Photo

Photo every 5, 10, 30, 60 seconds / Manual

No

Looping Video

Yes

No

High Bitrate Video (H.264)

Up to 60Mb/s

Up to 45Mb/s

Up to 15Mb/s

Audio Features
Mono, 48kHz, AAC compression with advanced multi-band AGC (automatic gain control)

Yes

Studio quality external microphone support

Yes

No

Increased audio range by approx. 10dB (compared to HERO3+ Black Edition)

Yes

No

Handles approx. 2x greater dynamic range (compared to HERO3+ Black Edition)

Yes

No

Supports 3.5mm stereo microphone via optional adapter (sold separately)

Yes

No

Usability Features
GoPro App Compatibility

Yes

No

GoPro Studio Compatibility

Yes

Built-in Touch Display

No

Yes

No

Battery

1160mAh lithium-ion rechargeable

Built-in 1180mAh lithium-ion rechargeable

Ports

Micro HDMI, mini USB, microSD, HERO Port, Composite A/V (via adapter, sold separately), 3.5mm Stereo Mic (via adapter, sold separately)

Mini USB, microSD

Storage (Memory)

microSD Class 10 or UHS-1 up to 64GB (sold separately)

microSD Class 10 or UHS-1 up to 32GB (sold separately)