1. Introduction
nVIDIA last month introduced a new series of graphics cards based on the 8800GT, with full DirectX 10 support. The latest batch of games (Crysis, Hellgate: London, Gears of War, etc...) really need a powerful GPU, and nVIDIA provides such a solution at an affordable price tag of €245 and upwards.
Gainward, an nVIDIA partner, released their own version of the 8800GT series, based on the nVIDIA reference design. We have already tested two overclocked versions of the nVIDIA 8800GT from XFX and Inno3D, so we turned with keen interest to see how Gainward's graphics solution would stand up, especially considering that it has lower core and memory clock frequencies.
- Gainward 8800GT (PN: 8927)
The Gainward 8800GT can be considered as a basic nVIDIA 8800GT with a massive 600MHz core, 1500MHz shader and 900MHz memory frequencies that place it above the 8800GTS series. More-over, it has 512MB of on-board memory with 256 bits of bandwidth.
Below is a table that illustrates the major features of the various 8800 models in terms of core/shader/memory clocks and interface bandwidth.
Core Clock (MHz)
Shader Clock (MHz)
Memory Clock (MHz)
Memory Amount
Memory Interface
Memory Bandwidth (GB/sec)
Texture Fill Rate (billion/sec)
GeForce
8800 Ultra
612
1500
1080
768MB
384-bit
103.7
39.2
GeForce
8800 GTX
575
1350
900
768MB
384-bit
86.4
36.8
GeForce
8800 GT
600
1500
900
512MB
256-bit
57.6
33.6
GeForce
8800 GTS
500
1200
800
640MB or
320MB
320-bit
64
24
GeForce
8600 GTS
675
1450
1000
256MB
128-bit
32
10.8
GeForce
8600 GT
540
1190
700
256MB
128-bit
22.4
8.64
GeForce
8500 GT
450
900
400
256MB
128-bit
12.8
3.6
GeForce
8400 GS
450
900
400
256MB
64-bit
6.4
3.6
- Retail package
The Gainward 8800GT retail package follows the usual design of Gainward models. There are several logos on the front that highlight this product's features, with most noticable being the Bliss 8800GT PCX logo, and at top right the PCI-Express v2.0 logo.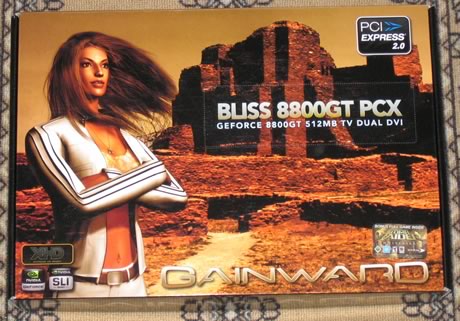 The retail box opened...
The Gainward 8800GT includes the usual goodies for a graphics card. However, we did notice that there's only one D-Sub15-to-DVI converter. But if your power supply doesn't include a six pin PCI-e molex connector, Gainward has included one.
The Gainward 8800GT follows the nVIDIA reference cooling solution for a single slot card. The graphics card is 23cm in length, so there may be some issues with smaller or crammed cases.
SLI is possible with the Inno3D 8800GT OC edition...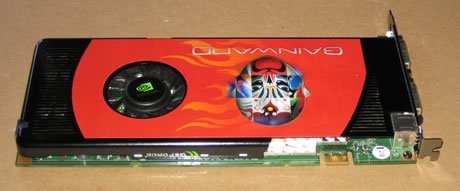 You need the 6pin power supply feed to operate this graphics card.
After installing the graphics card, we can see more details about its main features and specifications. The CPU core runs at 600MHz, while the memory at 900MHz and the Shader clock at 1500MHz. Other 8800GT overclocked cards we have tested, ran at higher frequencies so it will be interesting to see the performance difference later on in our review.
- Full specification
Graphics Engine

GeForce™ 8800GT

Video Memory

512MB GDDR3

Engine Clock

600MHz

Memory Clock

1.80GHz (2x900MHz DDR3)

Memory Interface

256-bit

Max Resolution

2048 X 1536

Bus Standard

PCI Express x16

HDTV Output

Yes, S-Video to HDTV Out

VGA Output

Yes, With DVI-VGA adaptor

TV Output

Yes, S-Video to Composite

Dual DVI Output

Yes

Adapter/Cable Bundled

1x DVI to VGA adapter
1x HDTV-OUT adaptor


Software Bundled

1x CD-ROM (Tomb Raider Anniversary)
1x CD-ROM (Utilities & Driver)