10. Overclocking
Before we start the overclocking procedure, let's take some notes. In order to achieve the best possible results, it is advised to disable the 'Turbo mode' and the 'EIST technologies' under the BIOS. Disabling the 'C-STATE Tech' will also eliminate any reason that could negatively influence your results.
The Bloodrage GTI motherboard offers all those controls needed for overclocking under the Quantum BIOS area. First you need to enable the 'System Turbo' setting to unlock all the voltage/Bclock(FSB) sub settings. The easiest way to start is by rising up the Bclock (FSB) from 133 to let's say..180Hz. That should give you a 3.60GHz speed, as the motherboard will inform you. The memory speed also changes according to the selected multiplier (Auto/manual). So far so good.
We left all the voltage settings to default and the 3.60GHz mark came very easily! The system is stable without performing any further adjustments: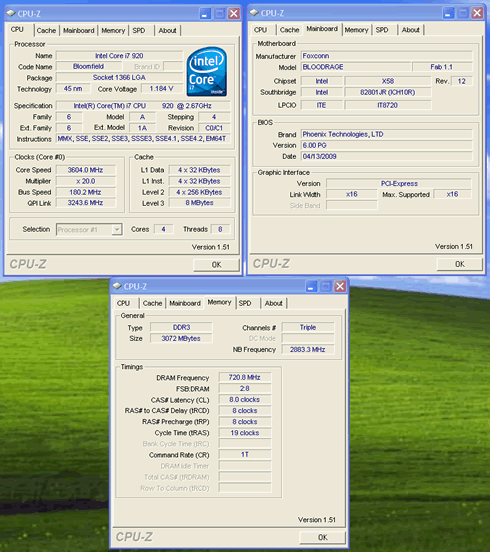 In order to get higher you will need to start experimenting and make manual adjustments. We got a 3.80GHz (aka Bclock=190):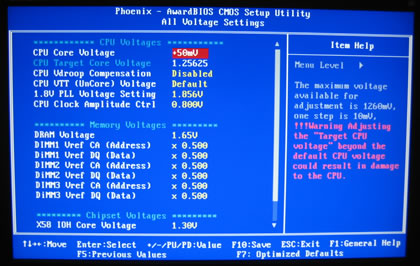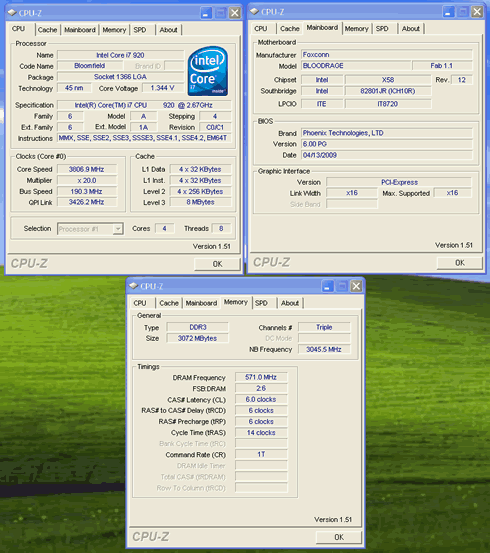 For Bclock=200 and 4.0GHz you could try the following BIOS settings:
Foxconn also offers the AEGIS Panel utility that controls most of the BIOS functions under Windows. However, despite our efforts, Windows was 'freezing' as soon as we were making any change in the settings and pushed the "Apply" button:
Like any other X58-based motherboard, the Foxconn Bloodrage GTI also allows you overclock it using the 'Turbo Function'. In our case we got some additional 135MHz without messing up with voltages etc...
When we tested the Foxconn Ressainance motherboard some time ago we had seen that under heavy overclocking, the 'Turbo' function was automatically disabled. it seems that this is also happening with the Bloodrage GTI model.
We left the Bclock at 190 and we enabled 'Turbo,' which should result to a CPU clock of 4.0GHz:
We start stressing the system, and everything looked good: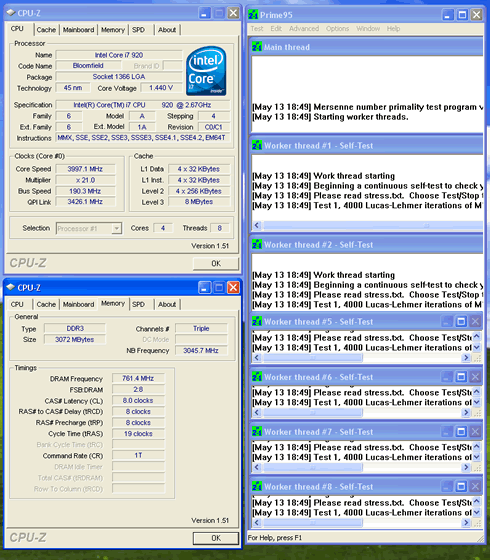 After sometime, the motherboard dropped the multiplier back to x20 meaning that the 'Turbo' had been disabled. Previously we had set the the 'Turbo' function always-on under the BIOS, so we are not very sure why this is happening.
Finally, we noticed that the memory dividers do not work, at least for the Core i7-920 processor. Although we set the memory at 1333MHz under BIOS, it was still running at 1067MHz under Windows. The same behavior was also noticed with the Foxconn Renaissance motherboard.