11. Conclusion
The Foxconn Bloodrage GTI is a relatively affordable priced product for users who wish to buy an Intel X58 processor and benefit from its increased performance. The motherboard is also offering very good overclocking performance. Compared with a competitive solution from Asus (P6T Deluxe), we saw both motherboard to be somewhat equally fast in various tests, although the Asus P6T seems to perform better in the 3DMark06 benchmark and and the Crysis game.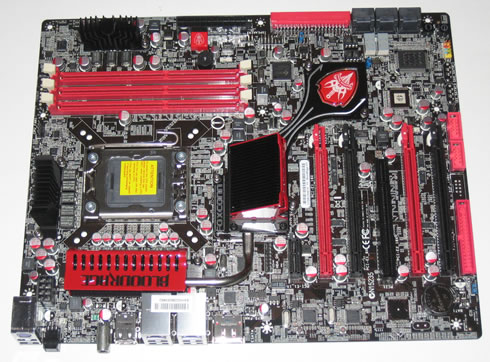 Designed for overclockers in mind, the Foxconn Bloodrage GTI did not let us down. We easily managed to get our CPU running at 3.60GHz without any BIOS adjustments. We reached the 3.80GHz after rising up some values, while for the 4.00GHz you should absolutely change some settings. We really liked that when we changed the Bclock under BIOS, the motherboard automatically calculated and showed us where the overclocking goes.
What we didn't like was the fact that Foxconn's Windows overclocking software called "AEGIS Panel" is still buggy and needs some work to become stable and usable for end users.
We were surprised to see 'Turbo Function' to be automatically disabled when the system was under heavy overclocking load and finally, we didn't like that memory dividers doesn't work for the Core i7-920 processor, a feature that competitor products (like the Asus P6T Deluxe) offer in a very good materialization.
To sum up, the Foxconn Bloodrage GTI is generally a good and quite overclockable X58 solution. We would like to see some points fixed by Foxconn, which are currently not allowing this well-designed product to become an exciting tool in the overclocker's hands.